Your A to Z Guide to Registration for:
LanguageCert International ESOL B2 Communicator
10% discount with this promo code: CB8358
Go to this website: https://www.languagecert.org/en/language-exams/english/languagecert-esol/b2-communicator-2281 [open it in a new tab/window for best experience]
You will see local prices for your country. You can change the country if needed.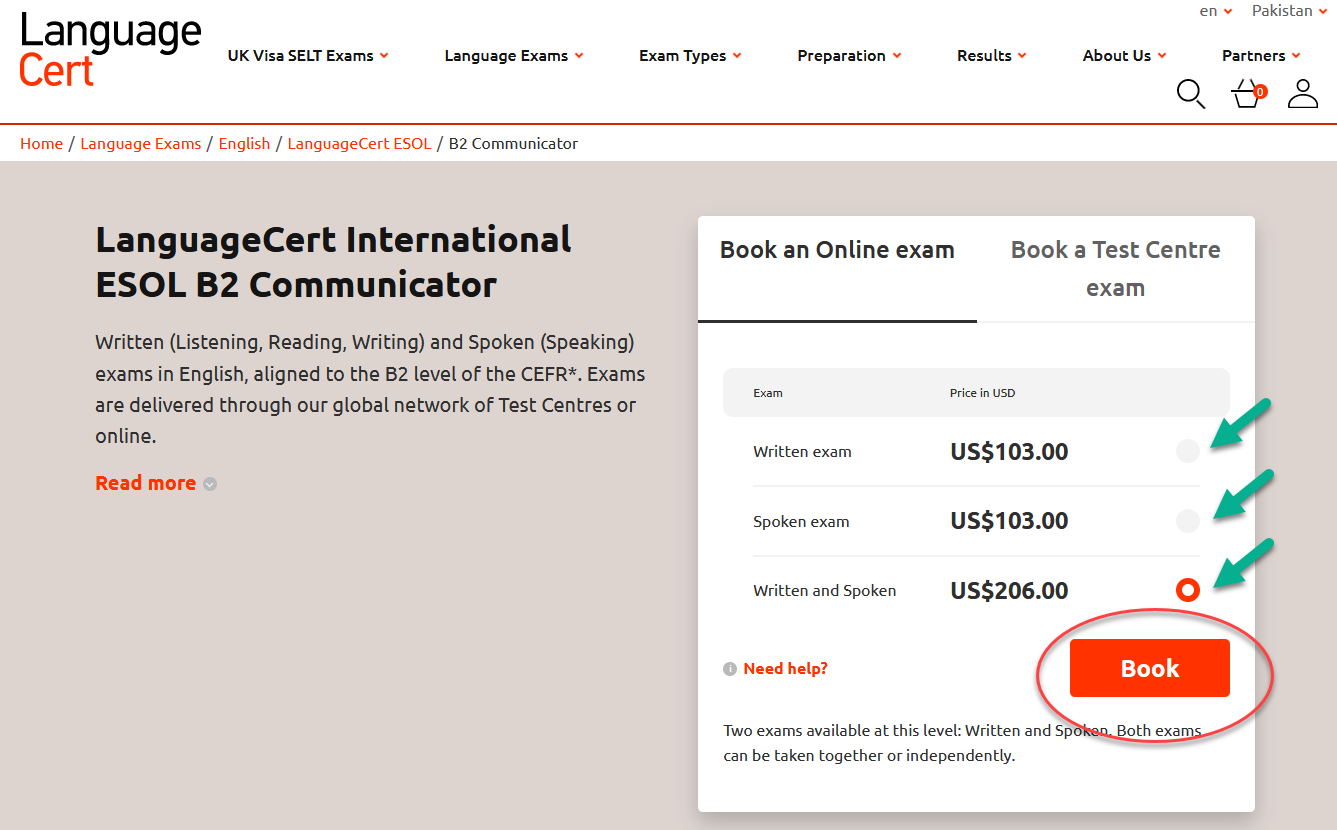 Select the exam module you need, in most cases you will need both LWR (Listening, Reading, Writing) plus Speaking. You will receive separate certificates and scores from both modules/parts. You will also take these parts separately, you can take them even on the same day or whenever you want, in the order you want.
Click the 'Book' button.
On this page, scroll to the bottom to redeem your promo code and receive your 10% discount.
Go to the: I HAVE A PROMO CODE box and enter your promo code (CB8358) and click Apply.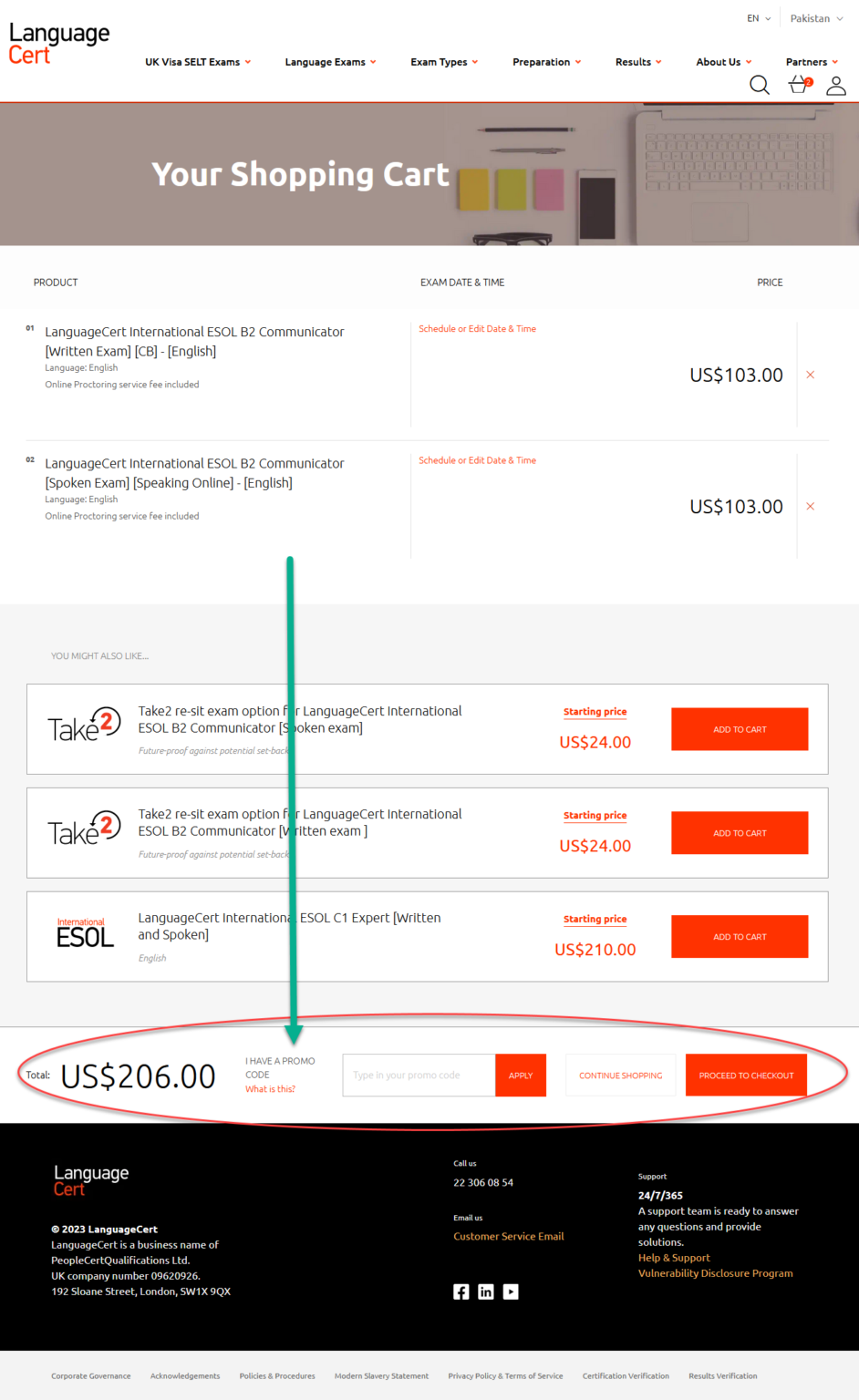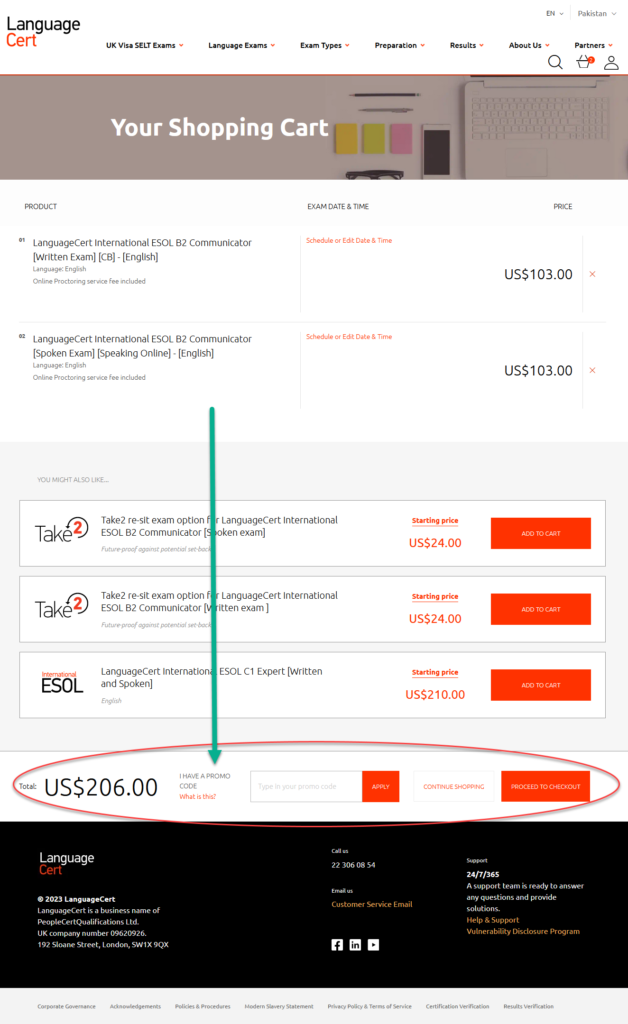 You will see that your shopping cart prices have been updated: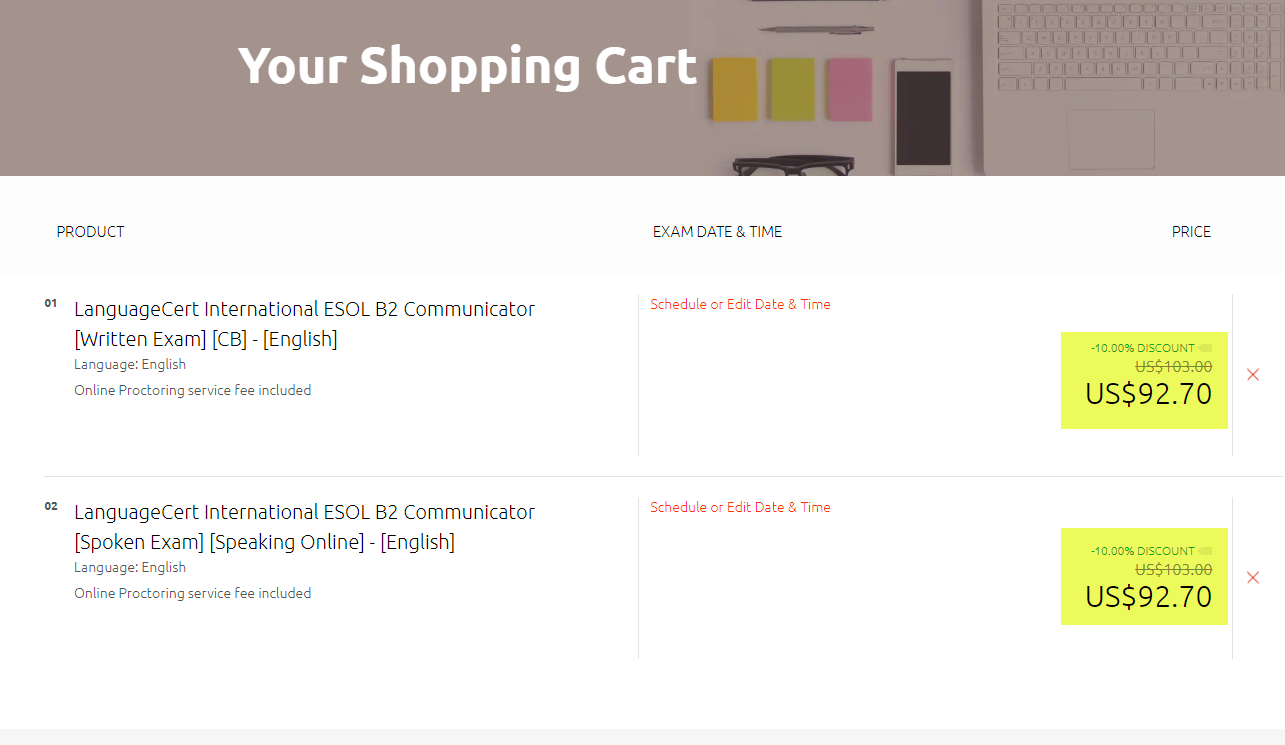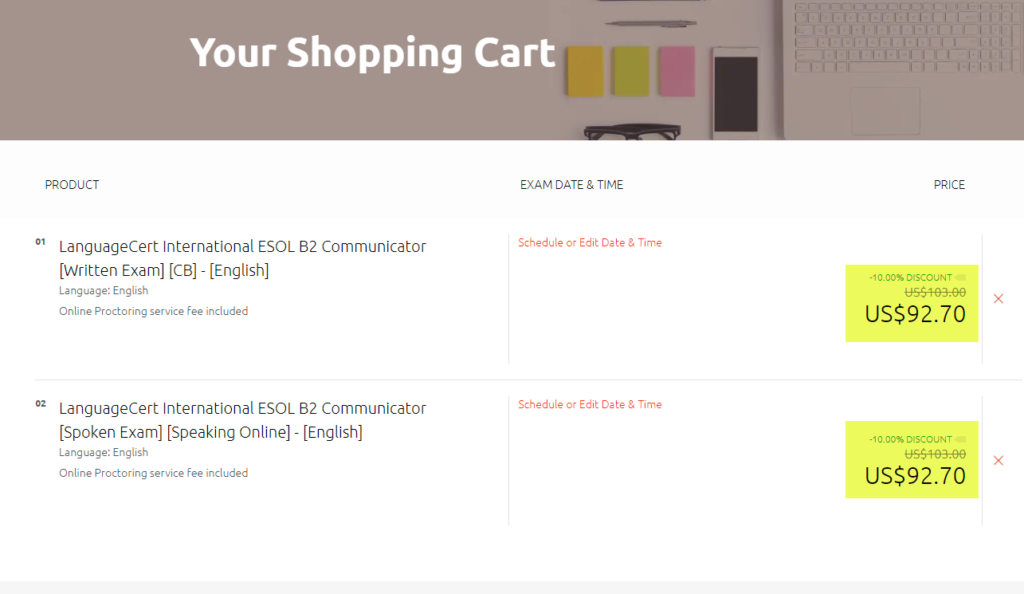 You may consider purchasing the Take2 Re-sit exam option for any part of the exam. This will allow you to re-take that part of the exam (Written = LRW) or Spoken in case you fail. Think of it as an extra insurance and a way to reduce exam stress. Please mind that if you pass the exam successfully, you will not be refunded for Take2.
You can schedule each exam module/part separately, click on Schedule or Edit Date & Time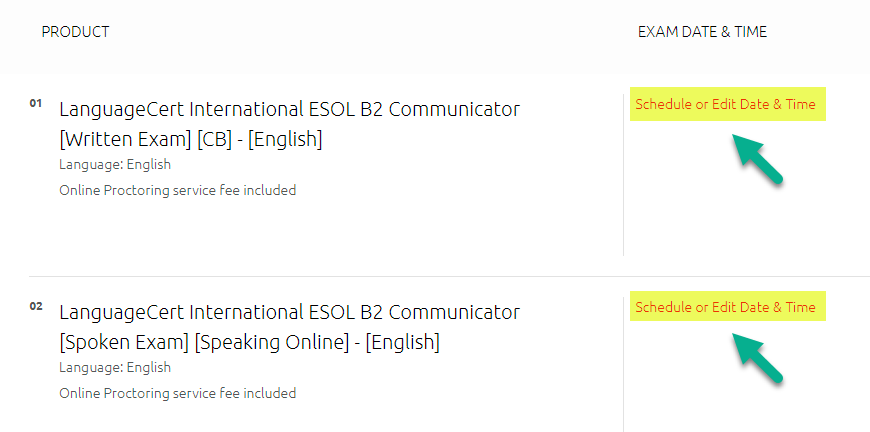 On this date & time selection screen you will be able to:
Check your timezone
Select the language of your Proctor (test administrator of the Written part), English is set as default
Using left & right arrows change the exam date
Choose the time of day when you want the exam to begin
IMPORTANT: you can select a date & time of your exam up to 12 months ahead, your 'exam seat' is valid for 12 months from purchase.
You will also be able to reschedule your exam within the 12 months' validity of your 'exam seat' – you can do this for free up to 48 hours (2 business days). I you wish to reschedule your exam closer to the exam date than 2 business, days, extra 'last minute' fees can apply.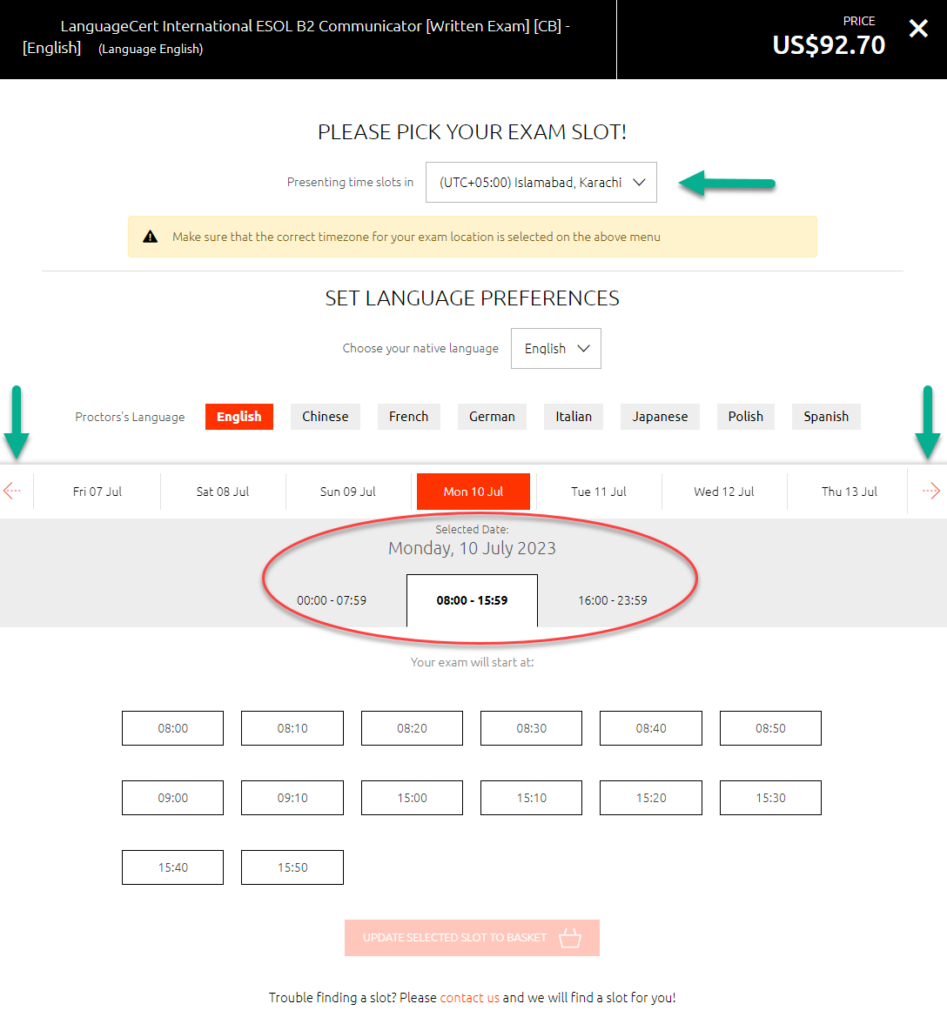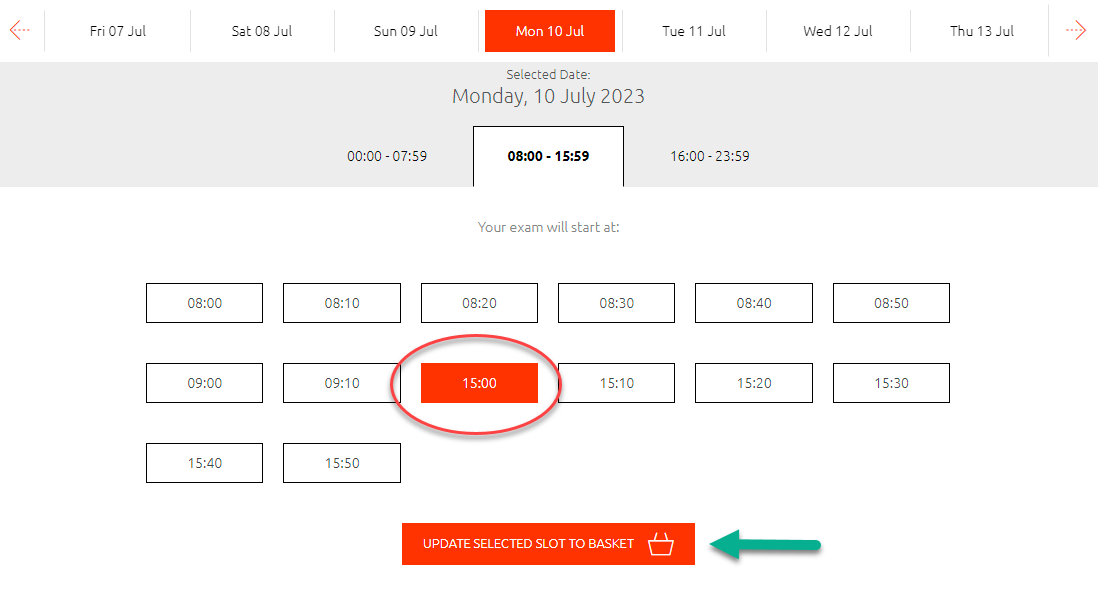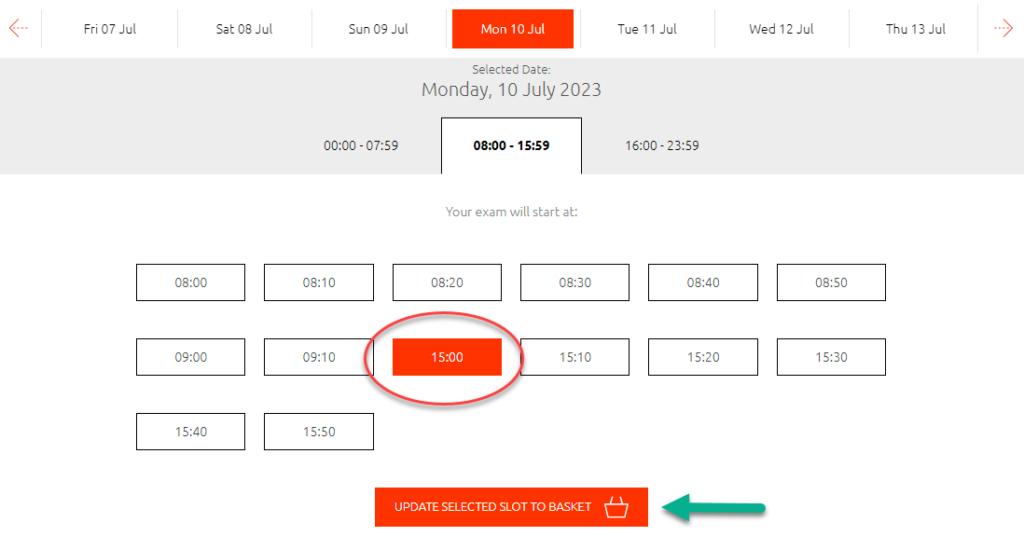 Once you select the start time of your exam you can proceed to shopping cart to select time & date for another exam or to proceed to pay.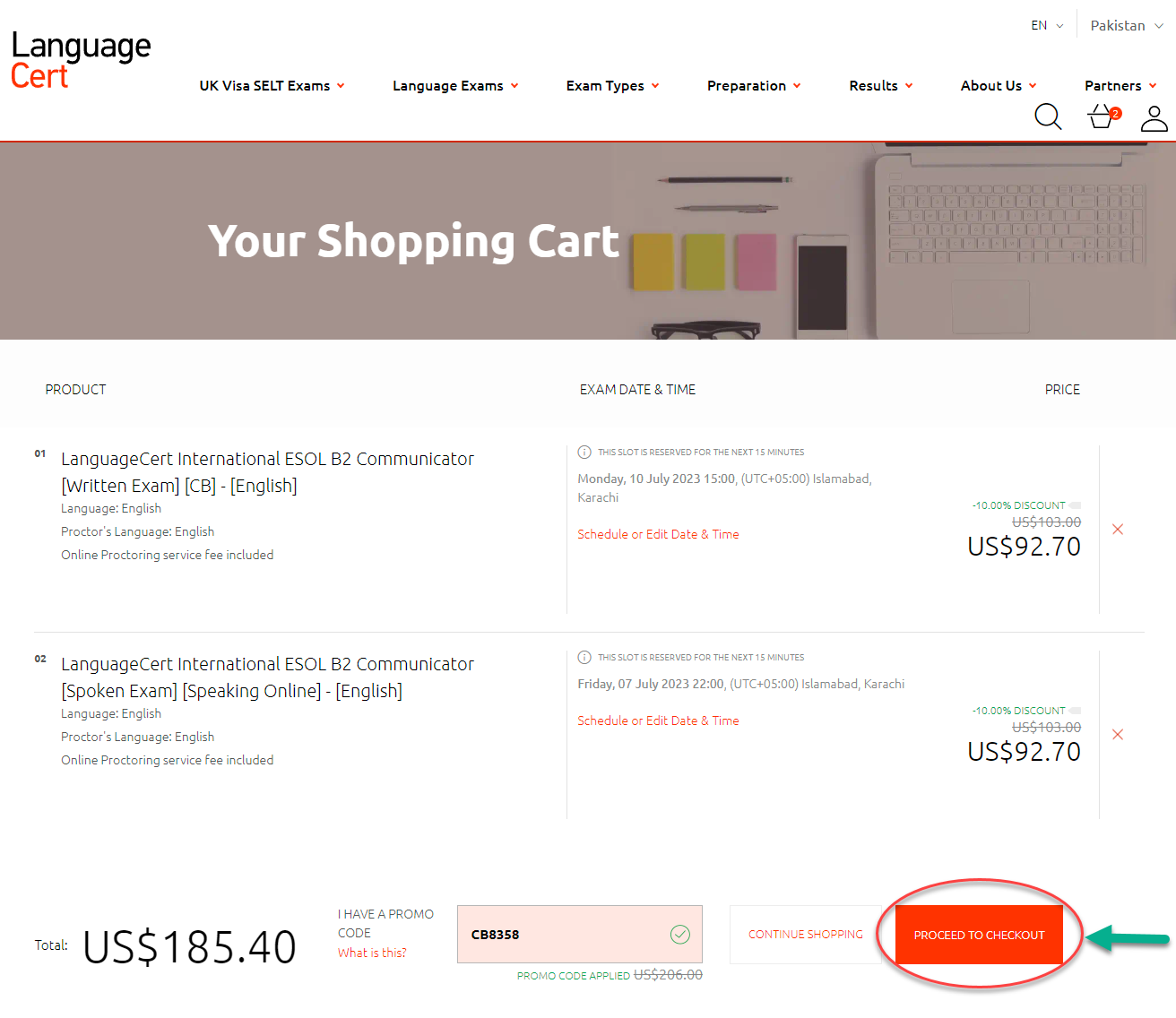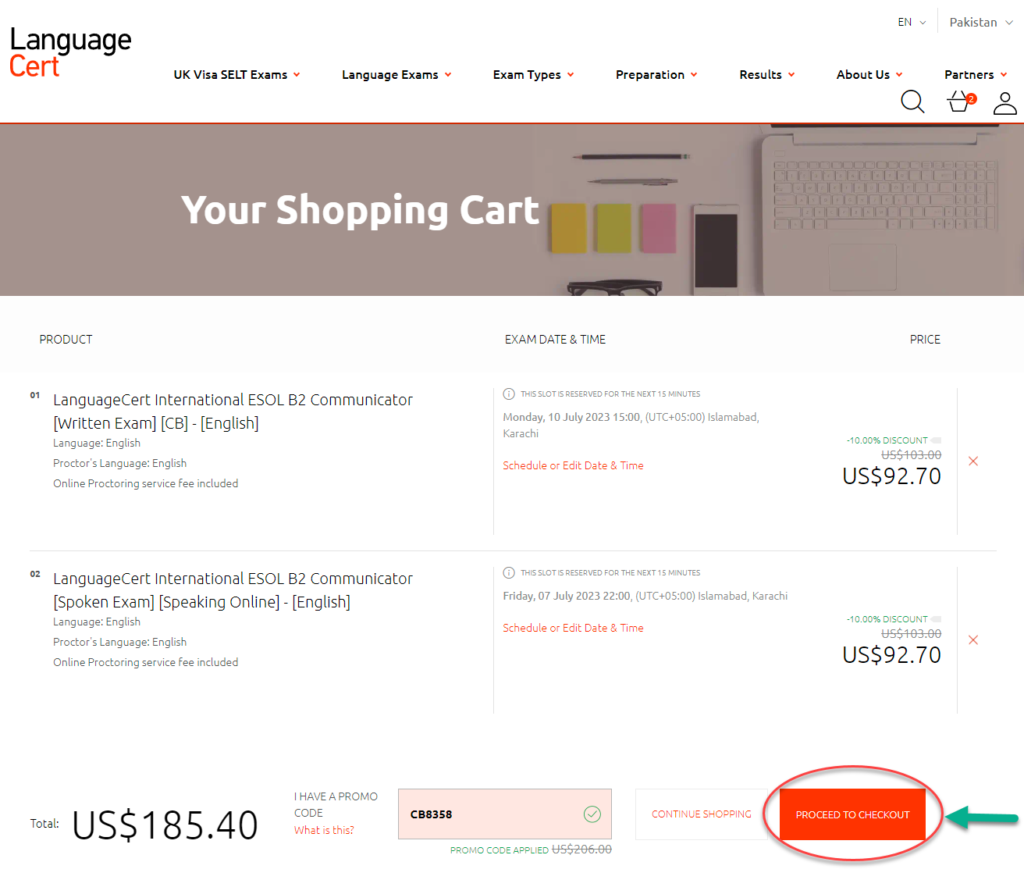 Click: Proceed to Checkout to set up your account and finalize your purchase.
At this stage you will be asked to create your account and provide your candidate information. Please use the same ID document you will later present during the exam.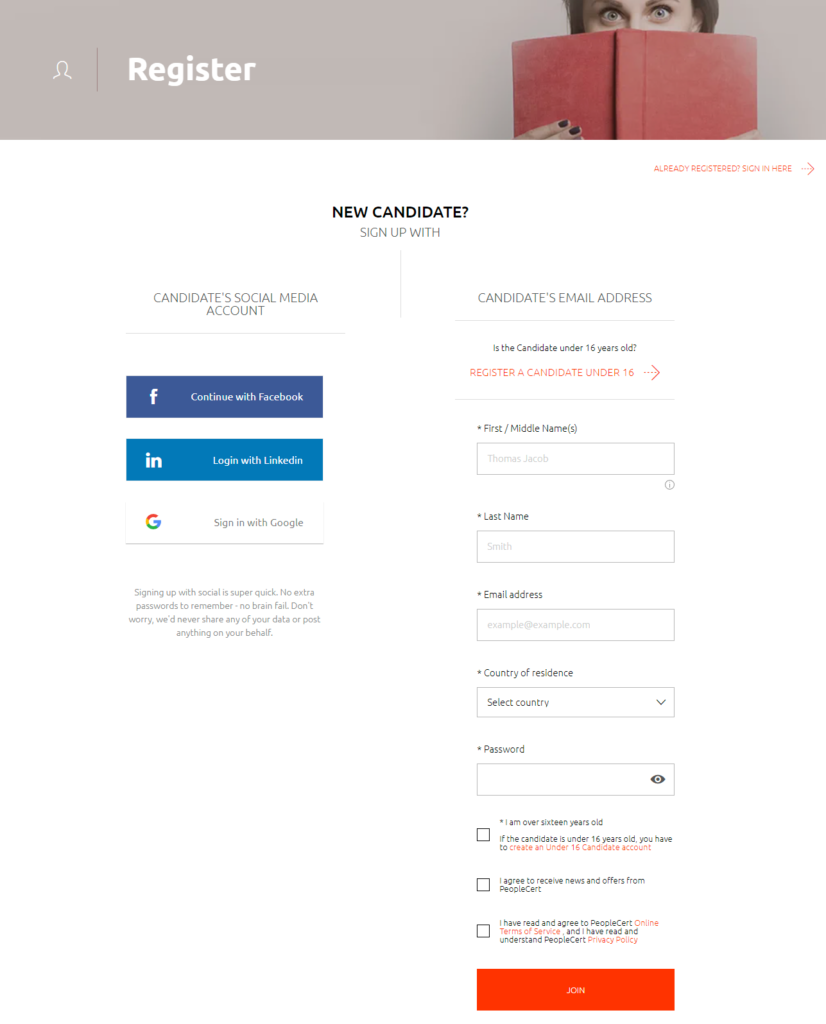 Please provide your payment details to complete the exam purchase.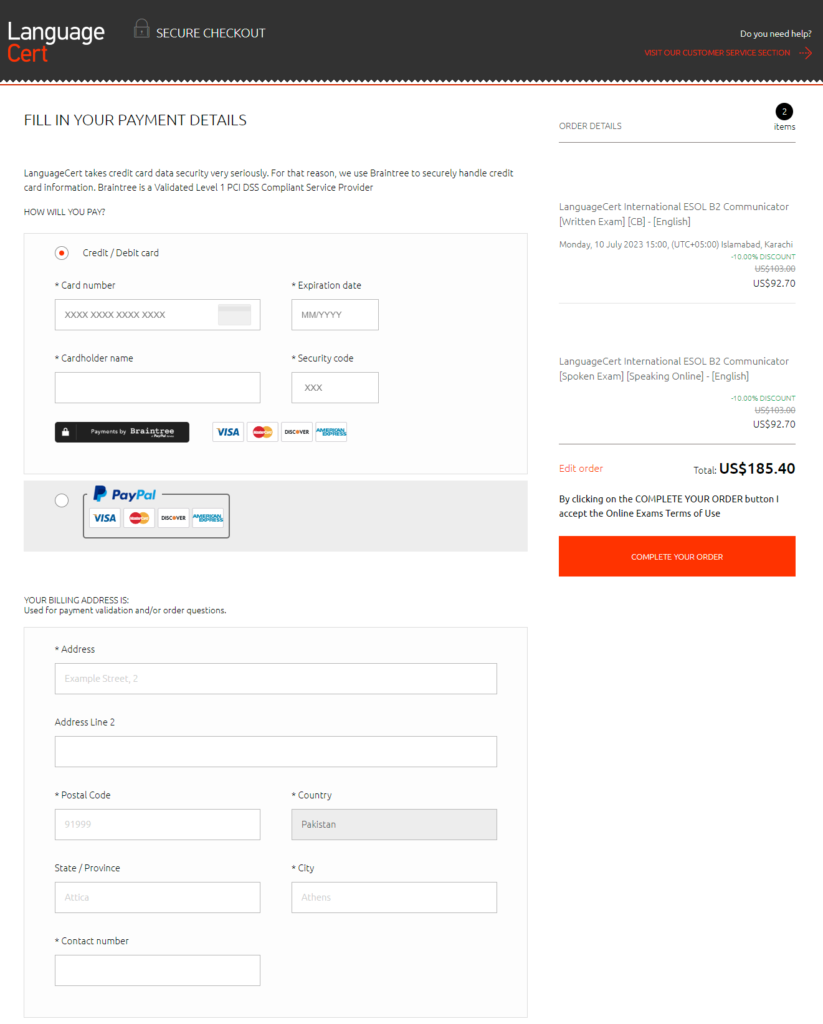 SETTING UP YOUR LANGUAGECERT ACCOUNT
Before or after you complete the payment – please complete your LanguageCert profile with required information: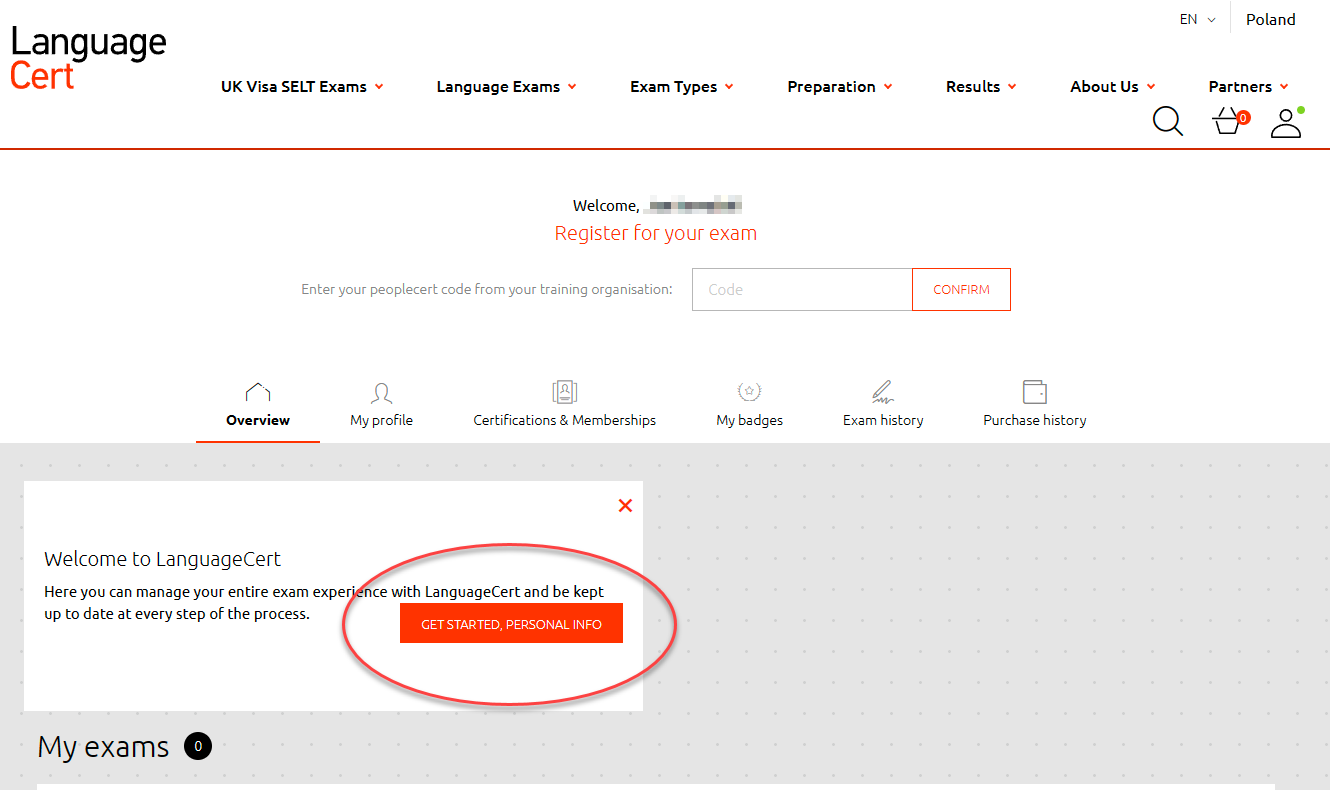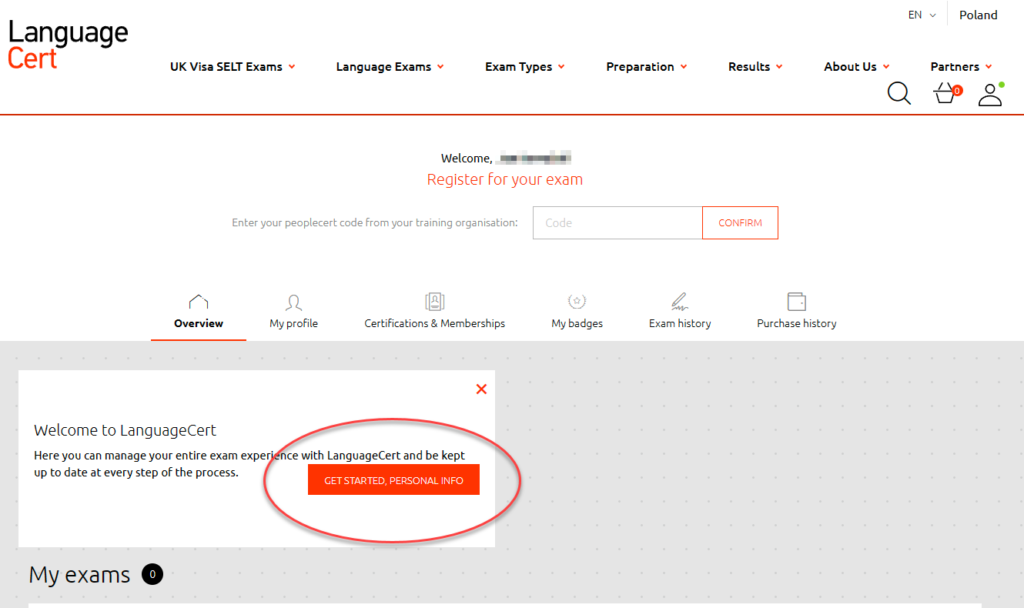 This will take you to the My profile tab when you can enter and later edit your details. This is an important step so please make sure your data is accurate, your ID number(s) are as in your official ID.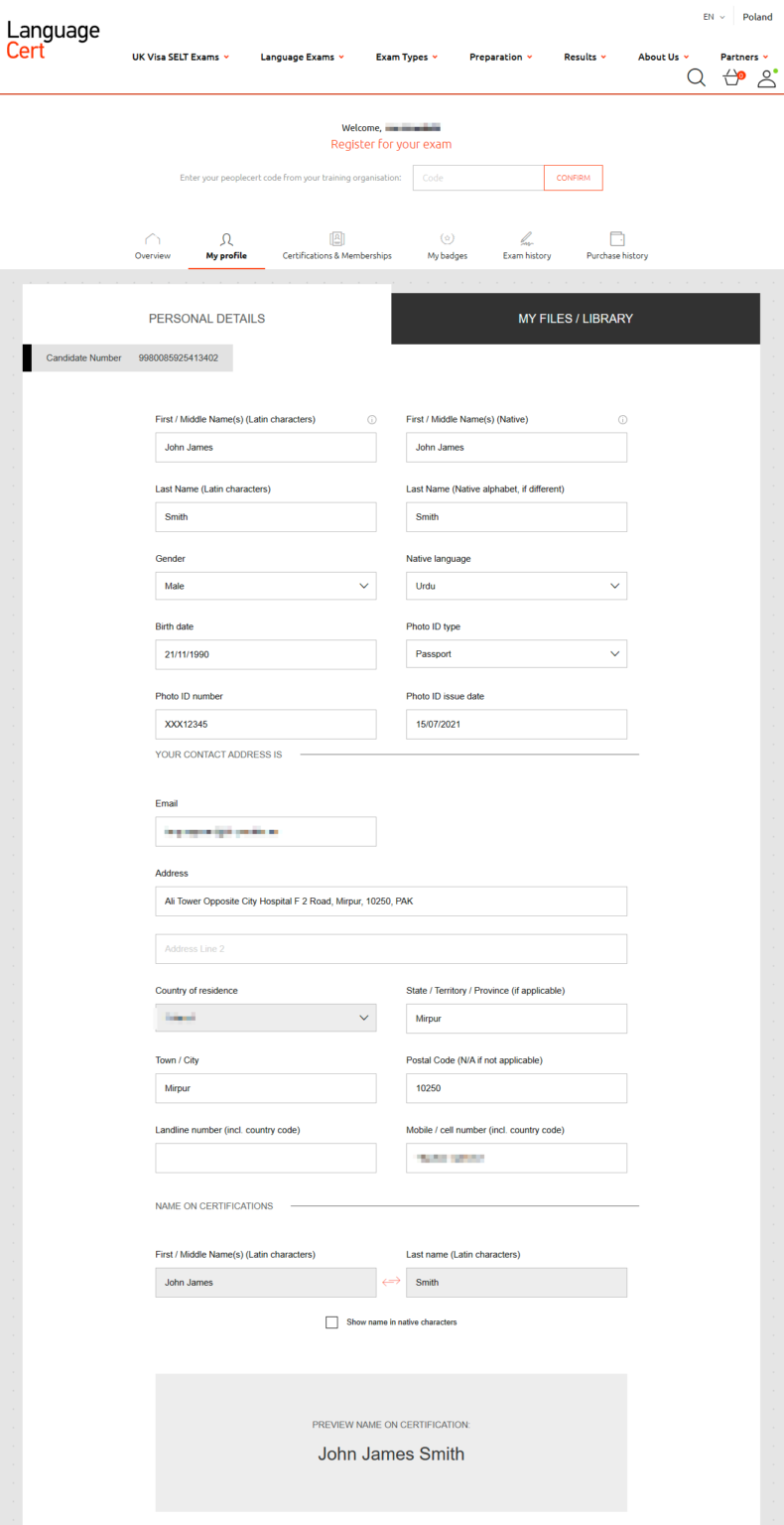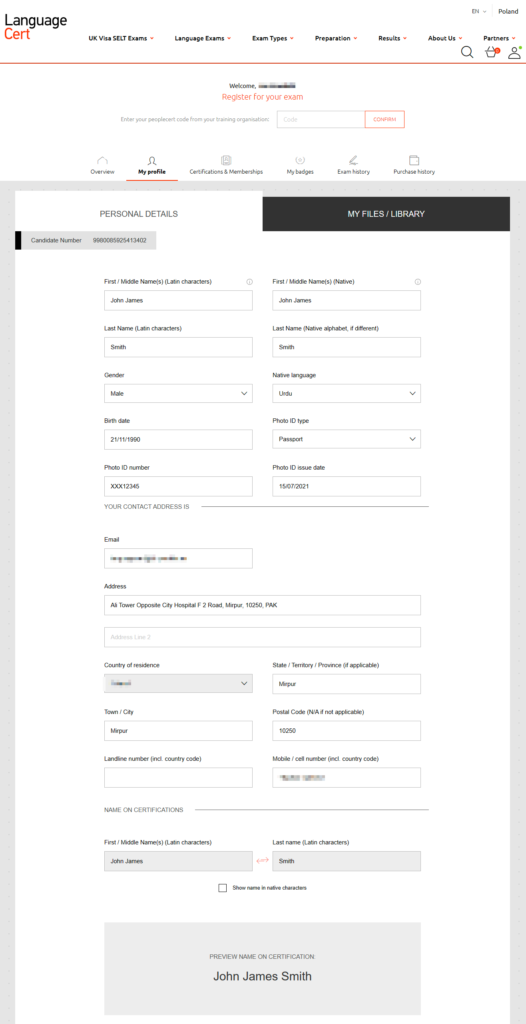 IMPORTANT: Pay special attention to the name, middle name and surname – enter the names in Latin characters where indicated and in Native characters (see below) if your name uses special characters (diacritic marks)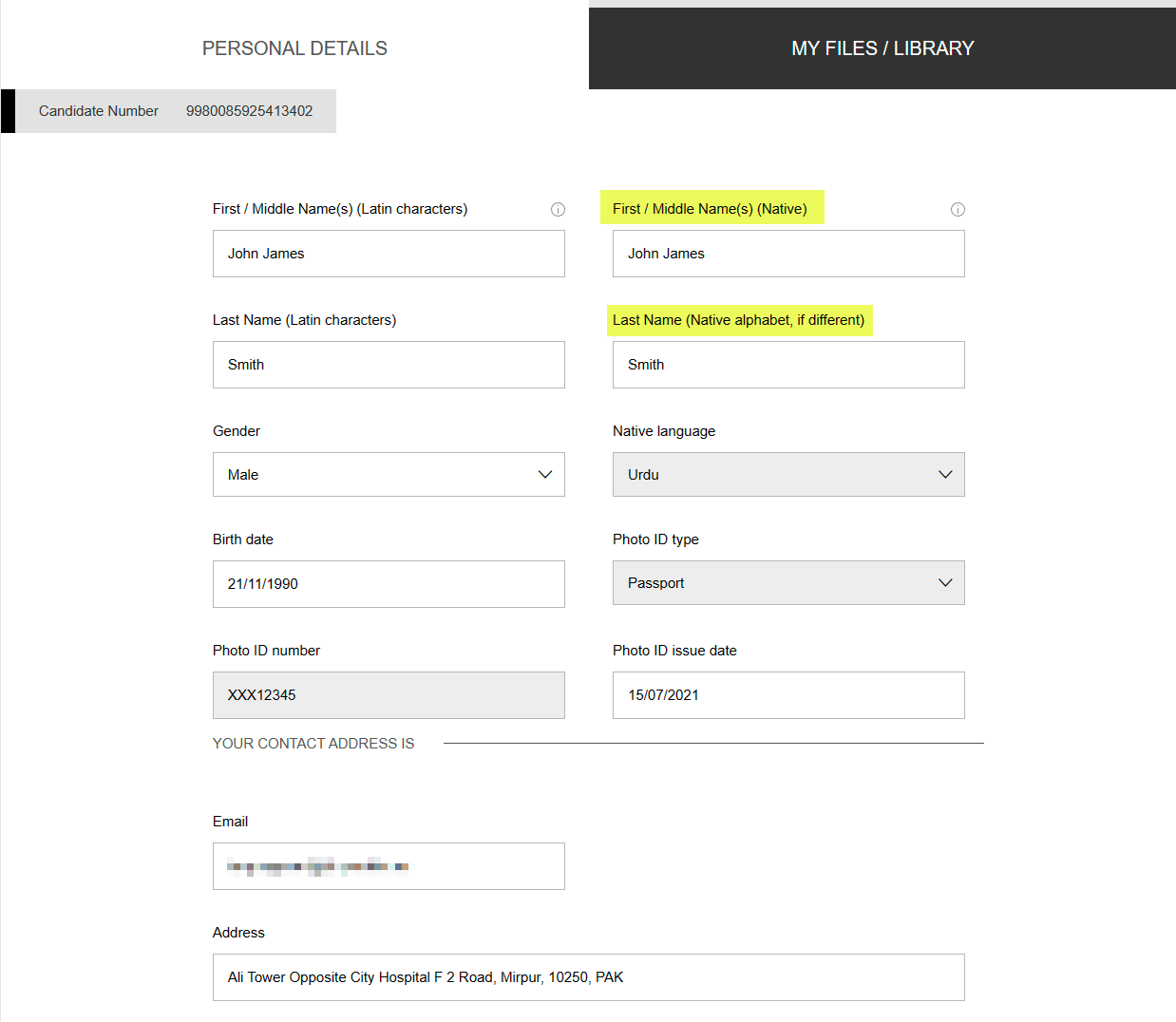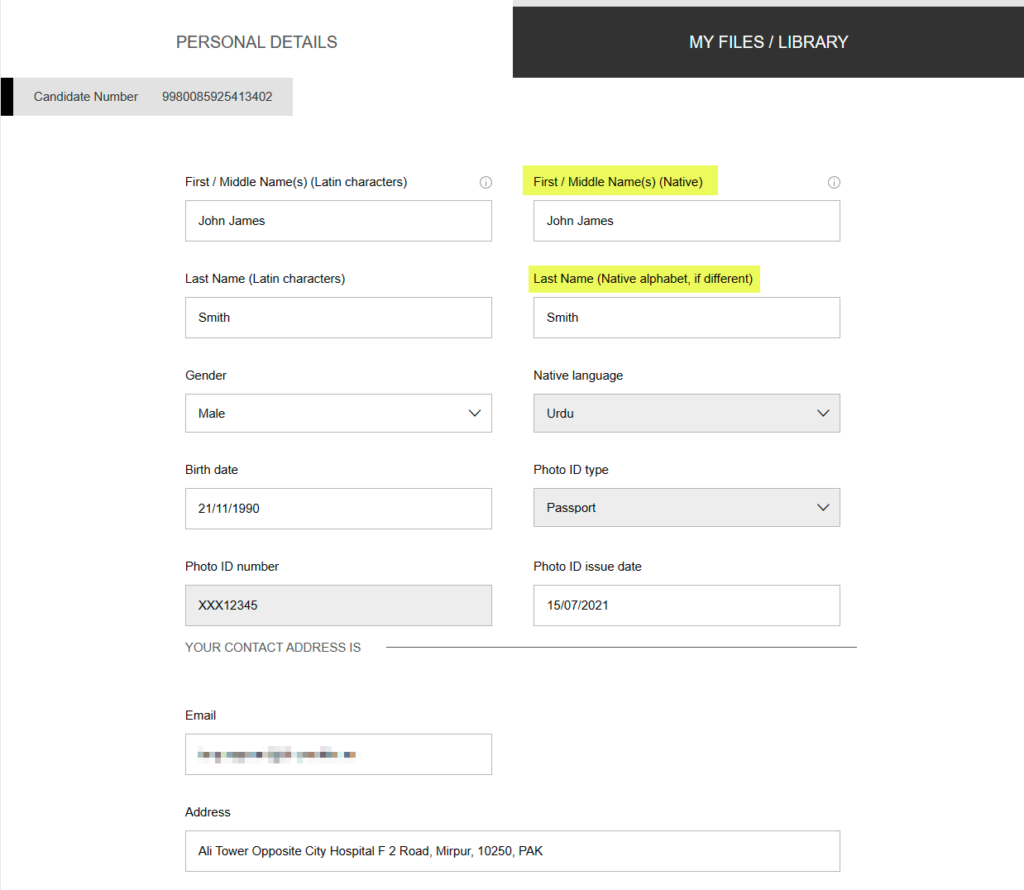 In case your name(s) or surname uses special characters, you can have both displayes on your Certificates: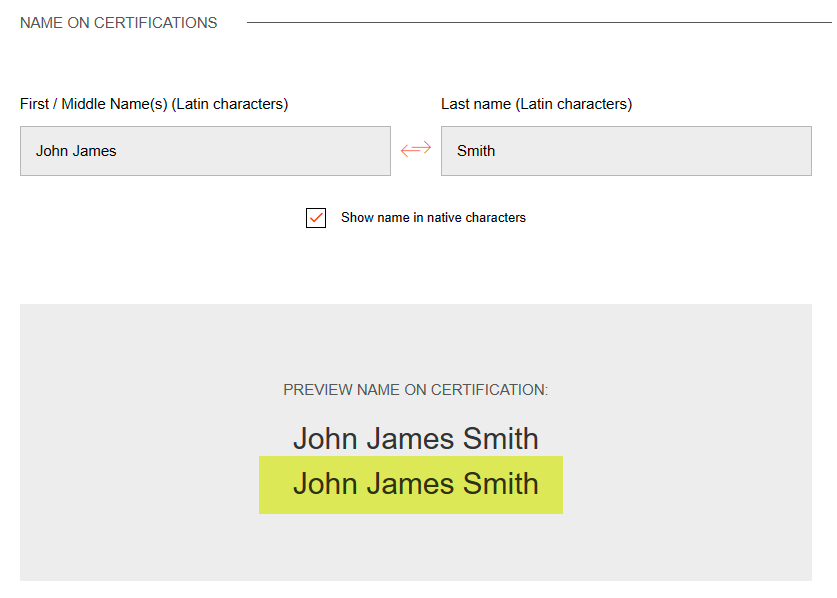 IMPORTANT:
Prepare your computer for the online proctored administration of the exam.
Visit the following website: https://www.languagecert.org/en/olp-guidelines
Watch this video: https://youtu.be/5QJ-6pWgvqE
Always use the wired headset for the exam, do not use wireless headsets or you will not be able to take the test.
Make sure you arrange your room to position yourself in front of the camera and so that your room door can also be seen behind you. Your test administrator needs to see that nobody will enter your room during the test administration.
USEFUL TIPS:
Brilliant Preparation material for the LRW part of IESOL B2 exam: LanguageCert ESOL B2 Written Prep Course – Education & Testing Store (edutesting.org)

Preparation materials for the spoken part: LanguageCert ESOL B2 Spoken Prep Course – Education & Testing Store (edutesting.org)

E-book: Ready for LanguageCert B2 Communicator – Interactive eBook – Education & Testing Store (edutesting.org)