Your complete LanguageCert International ESOL SELT B1 Listening, Reading, Writing & Speaking
Step-by-step guide – use this promo code EB93A5 to receive a 10% discount from the exam fee
everywhere in the world!
LanguageCert SELT – a suite of English exams required in the UK visa application process, depending on your visa type, a different exam may be needed. Please visit this website to see which exam you may need for your visa:
https://www.languagecert.org/en/uk-visa-exams/visa-requirements
LanguageCert International ESOL SELT B1 (or B2) – 4-skills exams covering Listening, Reading, Writing & Speaking, examinations you take at computerized exam centers all around the world. Please check this website to look for exam center locations: https://www.languagecert.org/en/uk-visa-exams/selt-test-locations
This guide will help you register for your SELT exam, receive the 10% discount and prepare for the exam day.
First go to this website: https://www.languagecert.org/en/language-exams/english/languagecert-esol-selt/b1-lrws-2714
Click Book, a new tab/window will open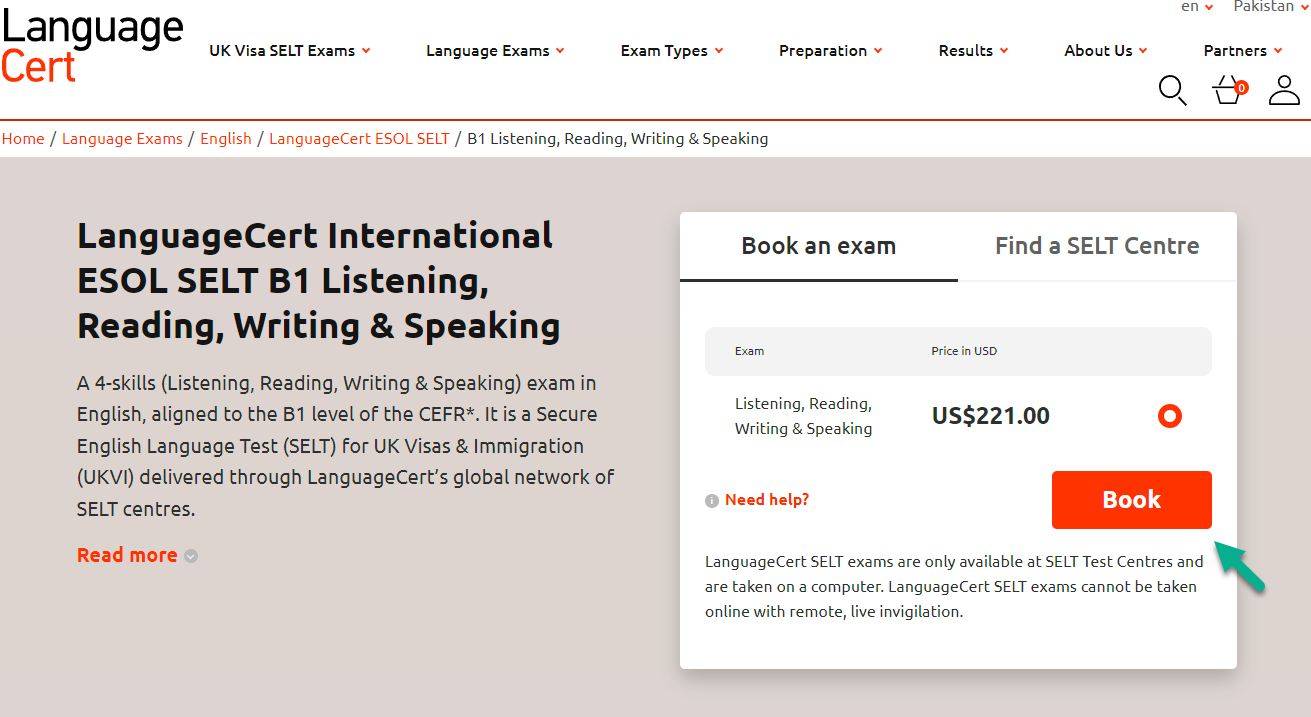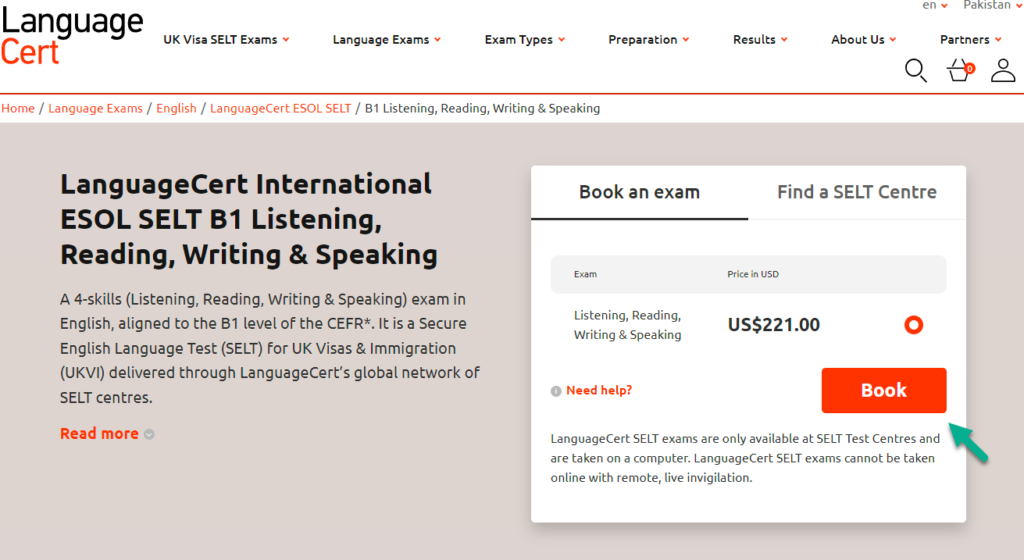 Select the Country and the City where you will take the exam (SELT exams take place at official test centers)
Click Search and you will see the list of exam dates for the location you chose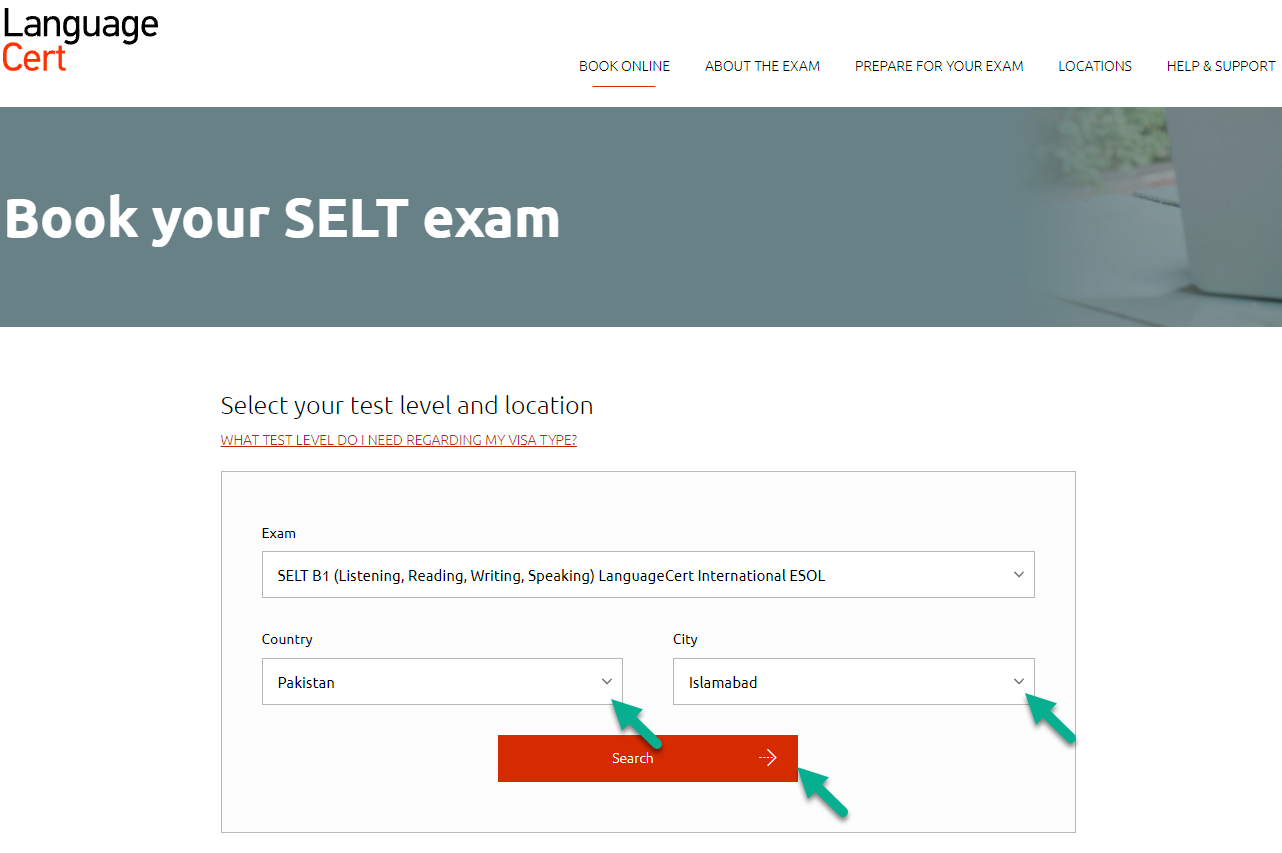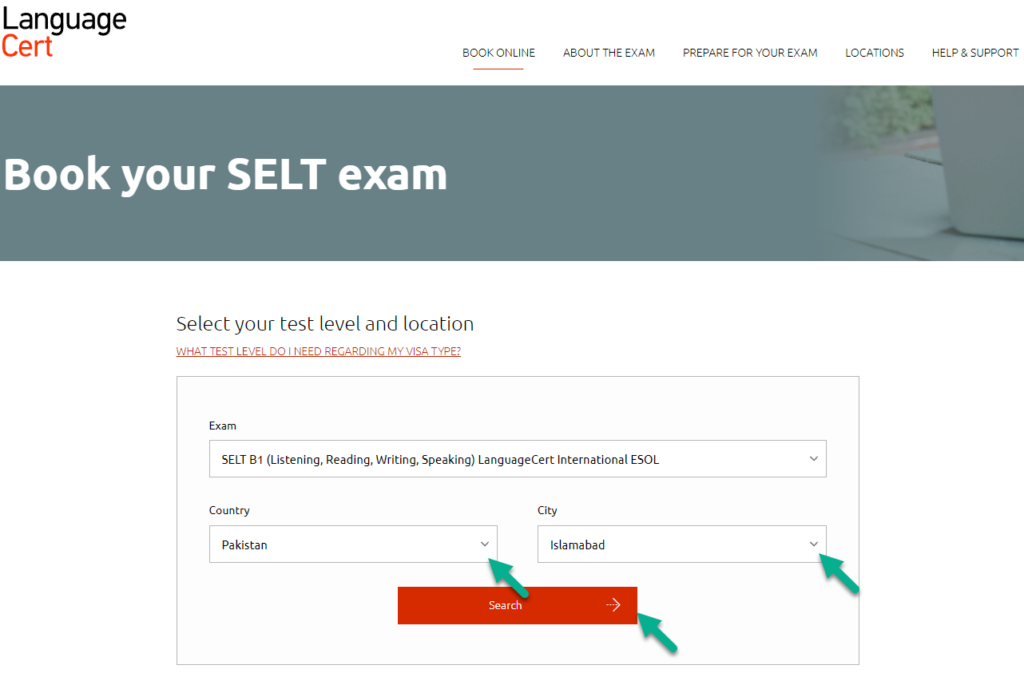 Click book Exam or Change Date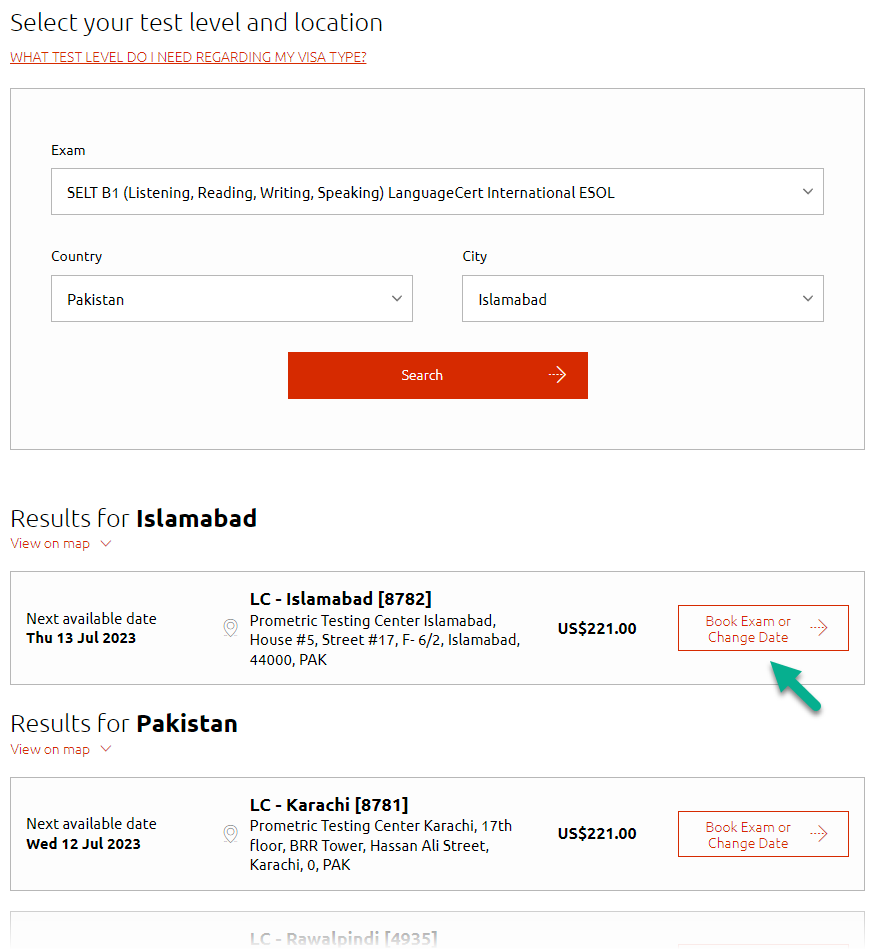 You will see the dates available for both parts of the exam, the Speaking Part and the Listening, Reading, Writing part. You need to select both dates and times to proceed. IMPORTANT: some of the dates for the Speaking or the LRW parts may not be available on the same day. You may need to take each part of the exam on separate days. Once you select both dates and times, please click: Proceed to Registration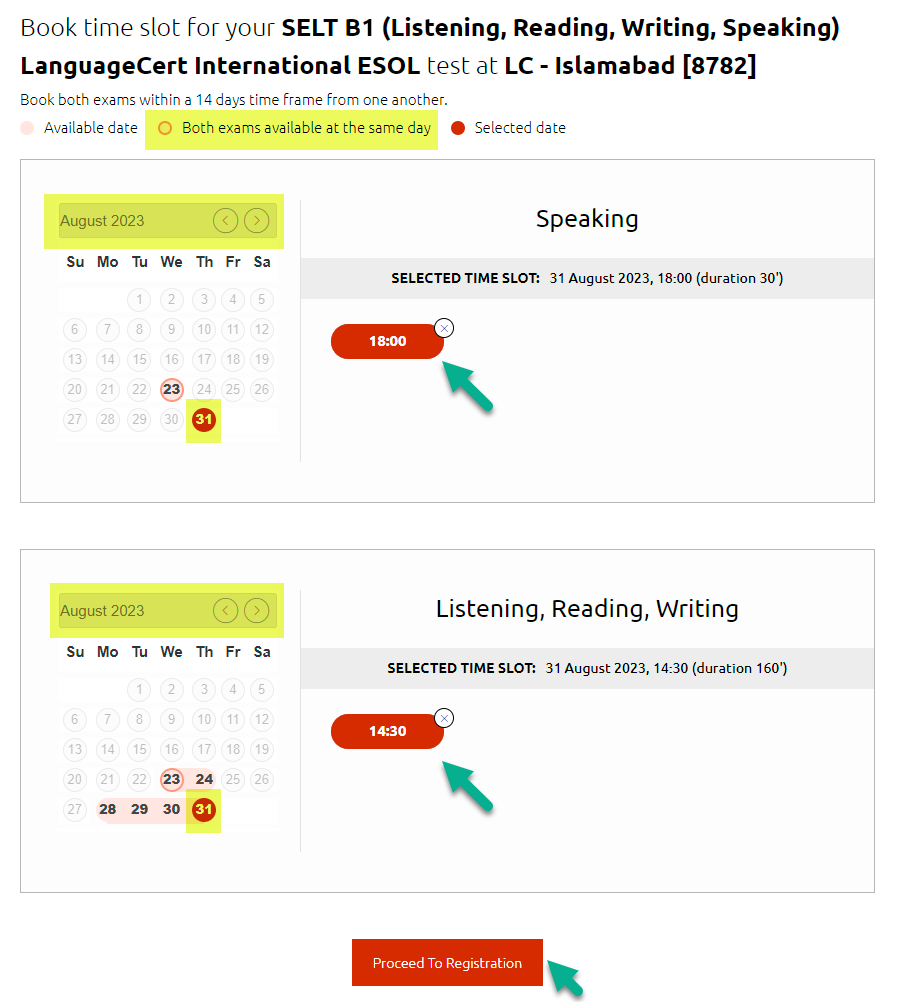 Please read the information on the webpage carefully to complete your profile in a correct way:
You MUST have an official, valid photo ID to register and take a SELT exam.
You MUST ensure your candidate profile details match the details from your ID.
You MUST add your first and middle name(s) (if any), separated by a space, exactly as they appear on your ID.
If the details do not match, you will NOT be able to take the test or receive a refund.
On your exam day, you MUST bring your ID to enter the Test Centre (photocopies of your ID are NOT allowed).
Enter your personal details exactly like on your ID, check the obligatory boxes, you may need to complete the 'I am not a robot' part to proceed. Make sure you enter your e-mail address correctly and your country of residence – you will not be able to change these later.
Click REGISTER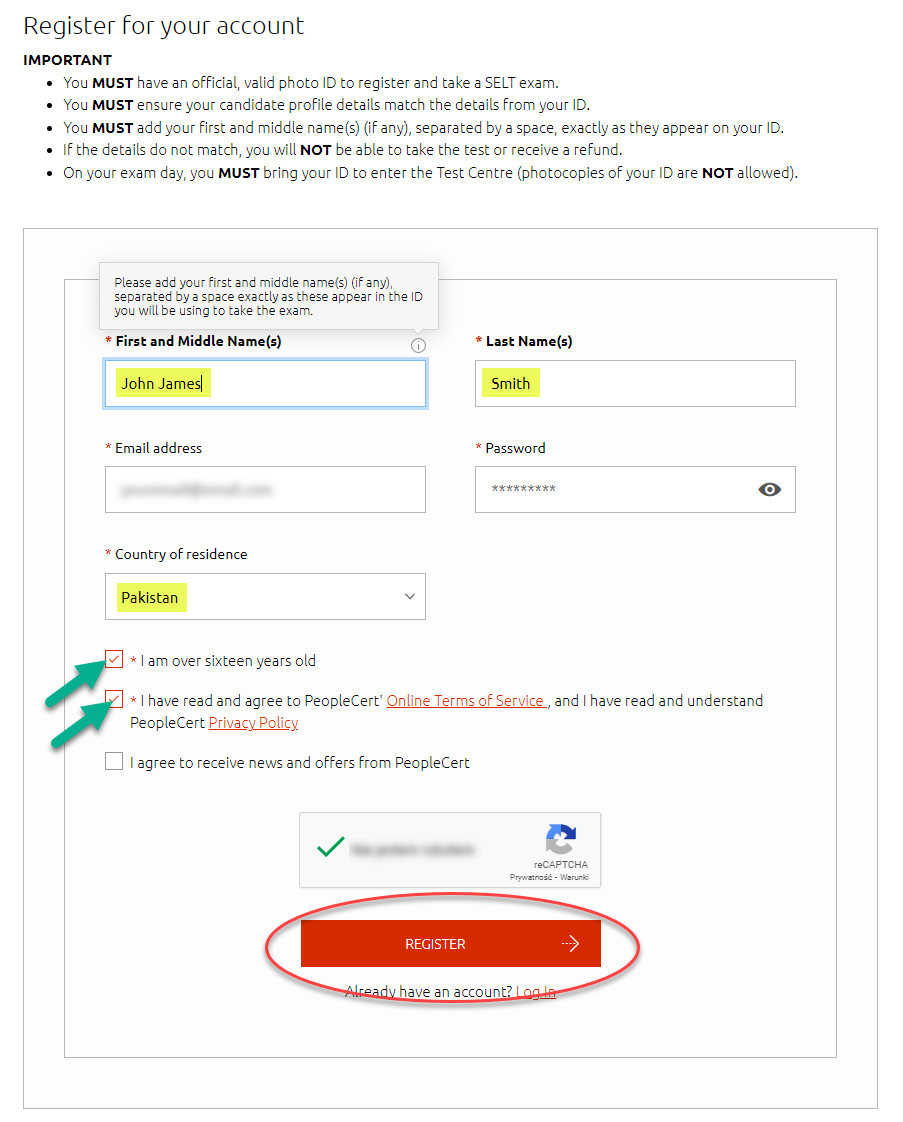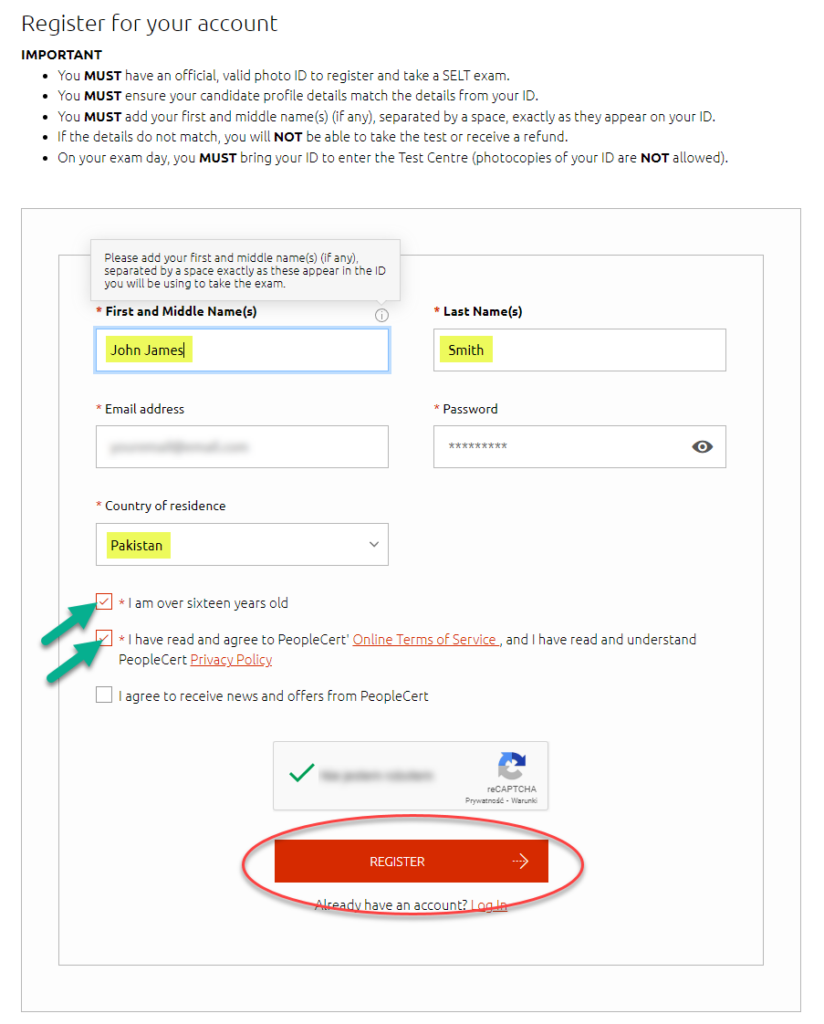 The registration page will ask you to complete your profile with your data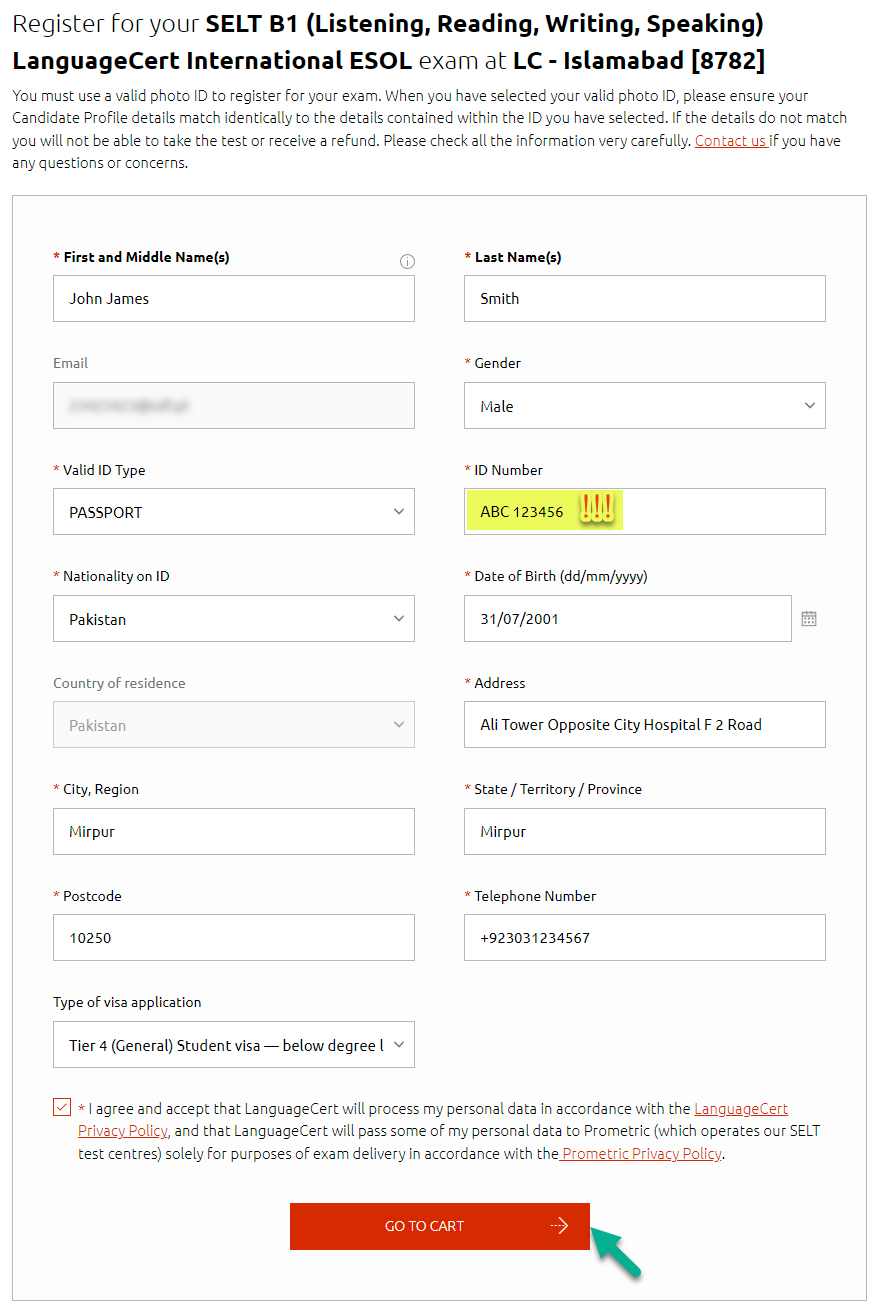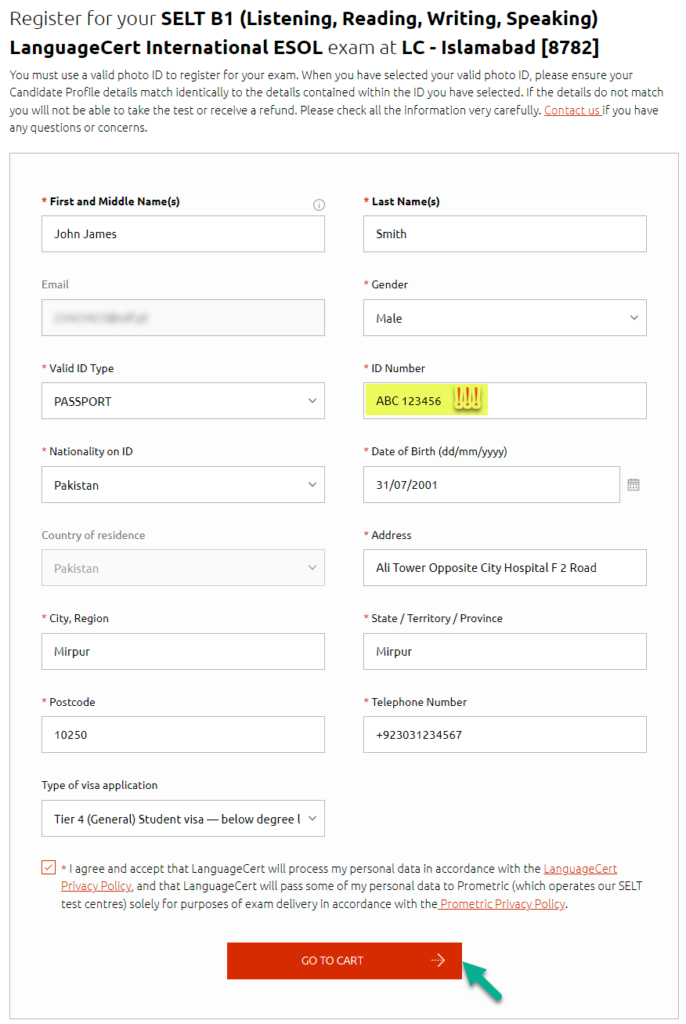 VERY IMPORTANT if you want to claim your 10% discount on the SELT exam!
You will see a summary of your exam registration and a box to enter your promo code: EB93A5
Enter the code and click APPLY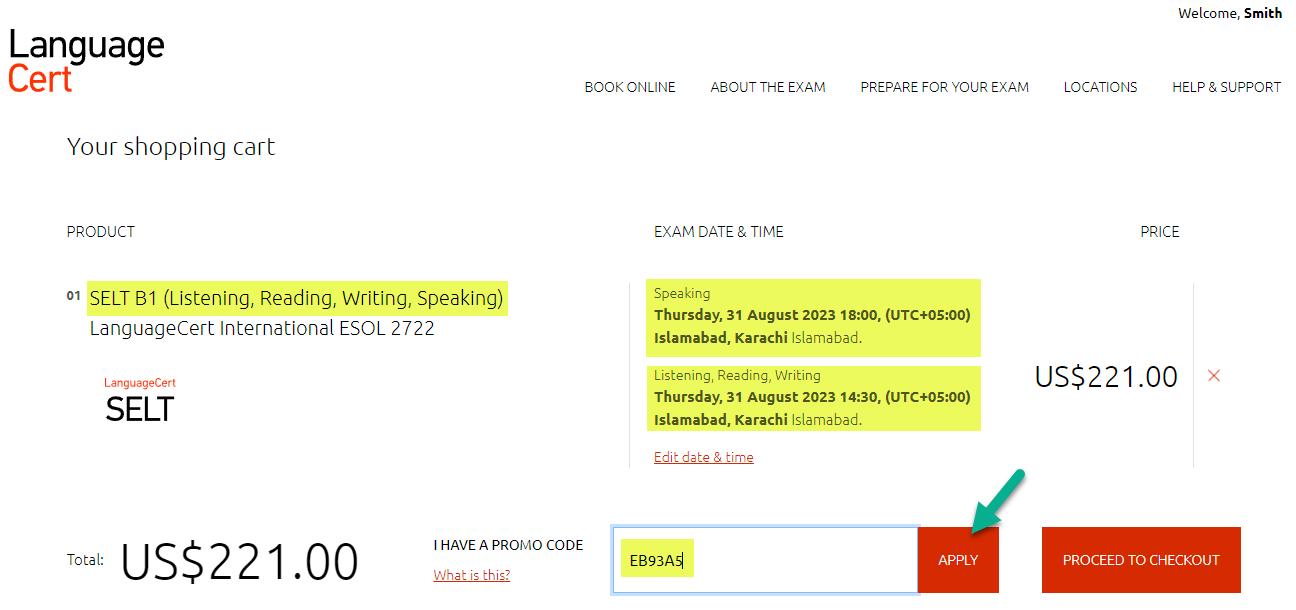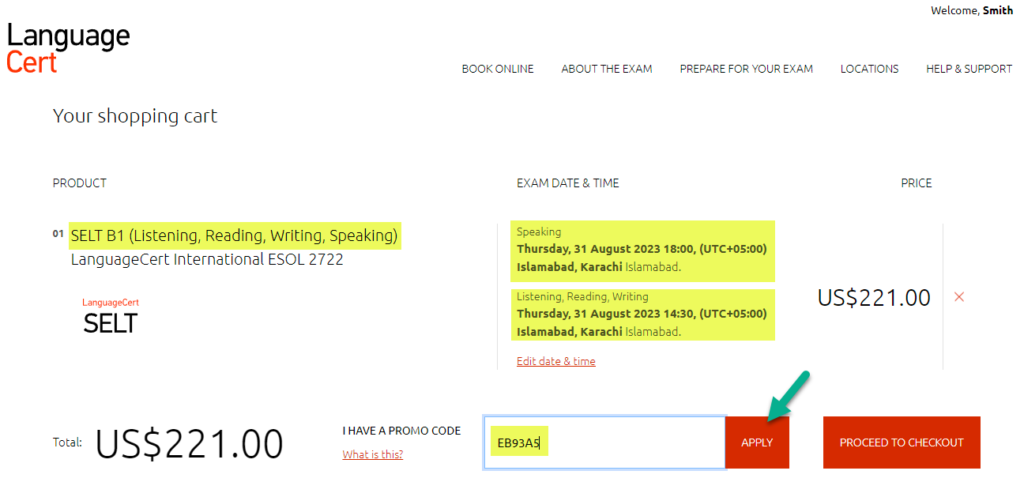 With the promo code applied successfully, your exam price will be reduced by 10% from the price of the specific country where you will be taking the exam. Prices may differ between different countries. But you will always receive the 10% discount anywhere in the world!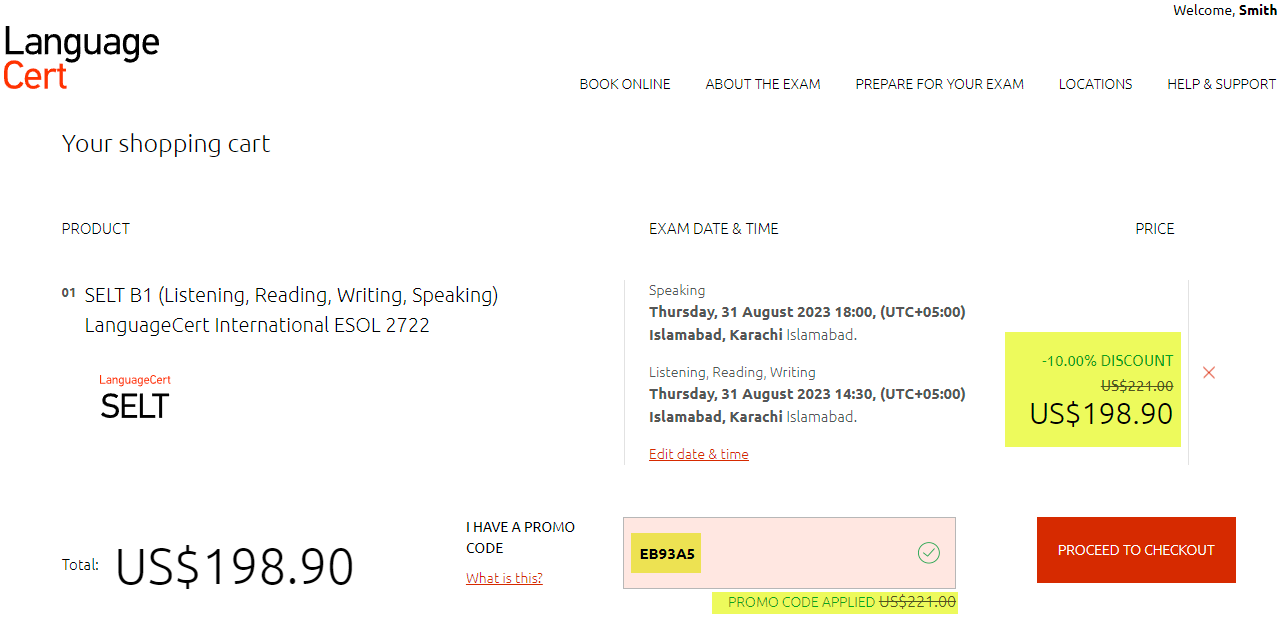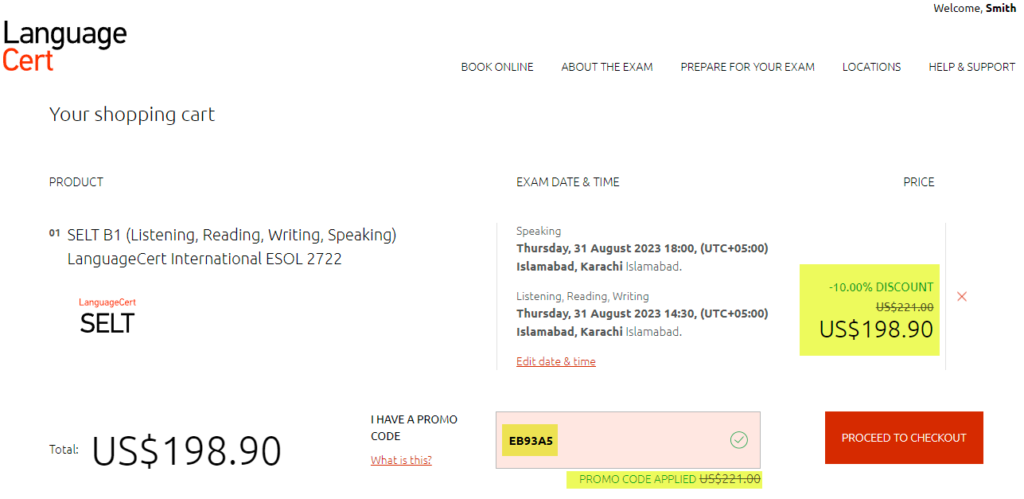 As an extra service you may consider adding the Take2 option to your exam.
Take2 re-sit exam option is offered at a fraction of the exam price and becomes available in the case of an unsuccessful SELT result. All re-sits are conducted at LanguageCert approved SELT Centres and must be taken within 14 days of the last scheduled SELT exam.
Results will be issued within 5 business days after the re-sit has been completed.
The Take2 re-sit service can be purchased during the LanguageCert International ESOL SELT (L,R,W,S) exam registration and it is activated only if a candidate gets
a HIGH PASS in the Written component + a PASS in the Spoken component
OR
a HIGH PASS in the Spoken component + a PASS in the Written component
If candidates meet one of the above criteria, the re-sit option is automatically enabled and they receive an email prompting them to schedule their re-sit exam within 14 days of their last exam.

Please note that all SELT Take2 re-sits are offered at approved SELT Centres in the UK and internationally.
IMPORTANT: if you succeed at your exam in the first attempt, your Take2 fee will not be refunded.


More information: https://www.languagecert.org/en/exam-types/value-added-services/take-2-for-selt-4-skills
You complete your registration process with payment of the exam fee. You will need to provide the credit/debit card details OR the PayPal account details.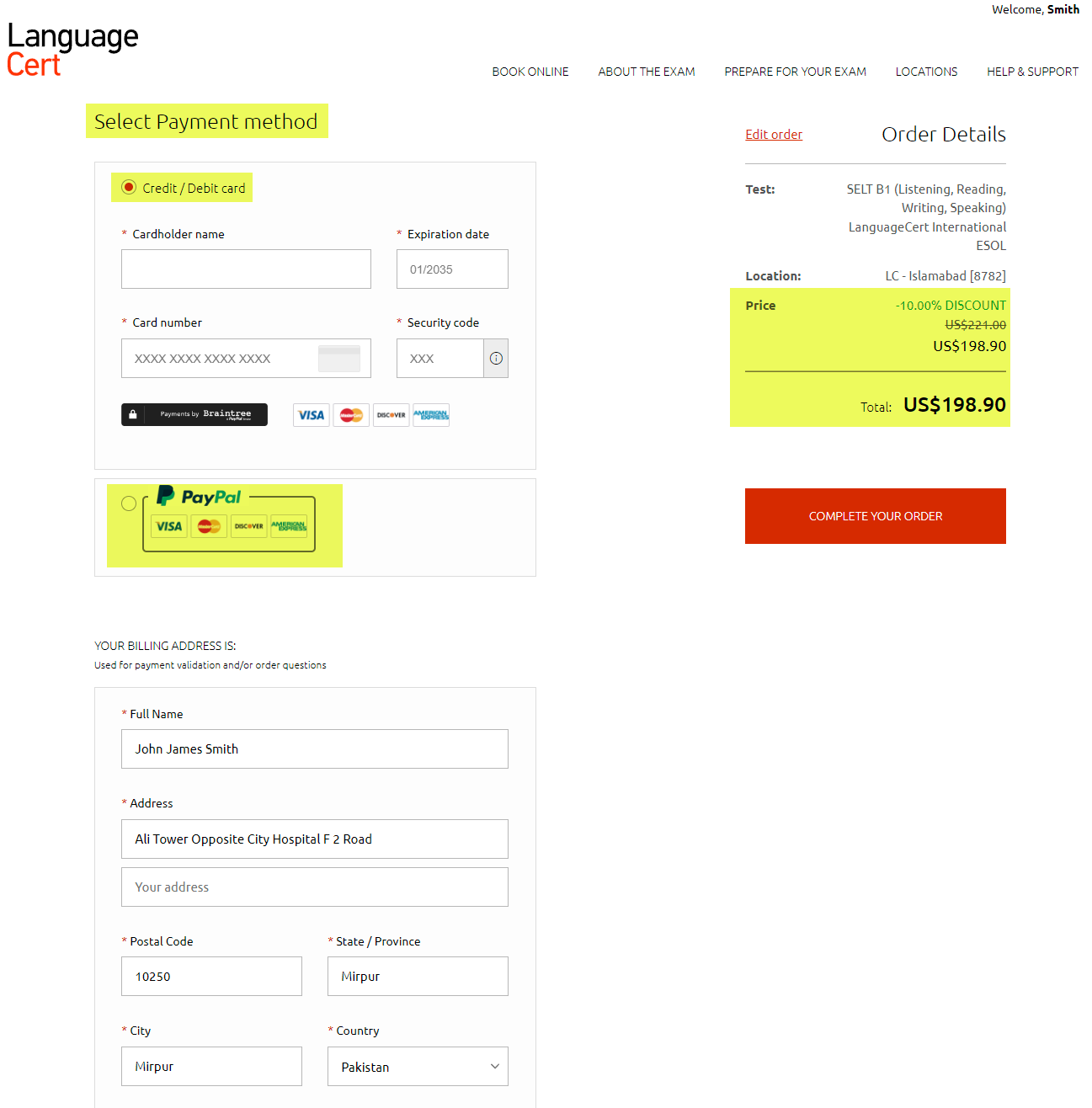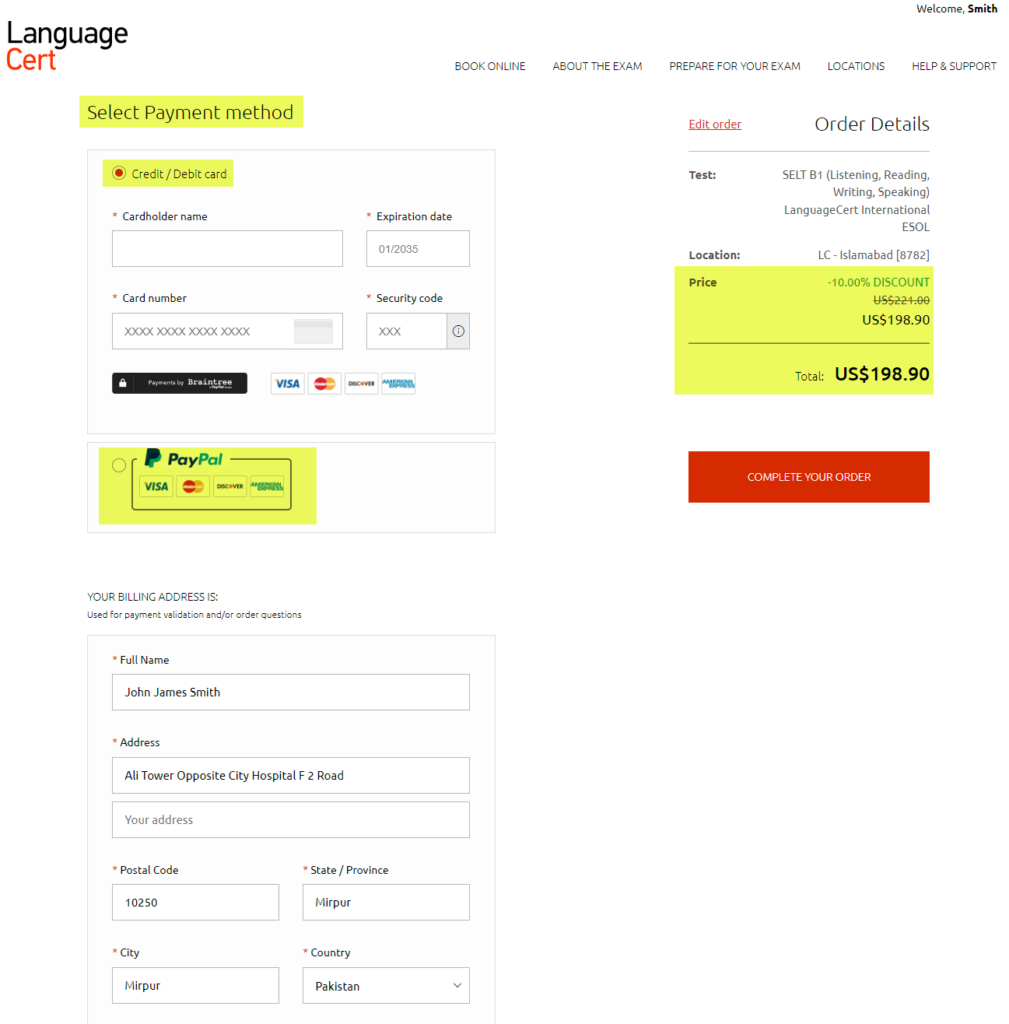 Congratulations! You have successfully registered for the UKVI SELT exam. Please remember the date and time of your exams to report at the testing center.
If you need any support from LanguageCert at any stage, please visit this site: https://selt.languagecert.org/support
SELT Exam preparation:
Quick, convenient and online preparation course for SELT B1 level: https://store.edutesting.org/product/languagecert-selt-b1-prep-course/
Interactive e-book with hundreds of exercises to prepare you for the exam: https://store.edutesting.org/product/ready-for-languagecert-b1/
Preparation for SELT B2 level:
Quick, convenient and online preparation course for SELT B2 level: https://store.edutesting.org/product/languagecert-selt-b2-prep-course/
Interactive e-book with hundreds of exercises to prepare you for the exam:
https://store.edutesting.org/product/ready-for-languagecert-b2-communicator-interactive-ebook/
Useful LanguageCert materials:
https://youtu.be/rBy06x4rztQ – Preparing for your International ESOL SELT exam – B1 Listening Reading Writing Speaking