How to register for LanguageCert ESOL – a booking guide
This guide will show you how to register for your online LanguageCert ESOL exam in a few easy steps using our promo code CB8358 for a 10% discount. For more information about LanguageCert ESOL, please visit this site.
Choosing the CEFR level (A1-C2) and modules (Speaking, Listening, Reading, Writing)
Enter the LanguageCert ESOL booking site, scroll down and choose the CEFR level you are interested in by clicking Learn More.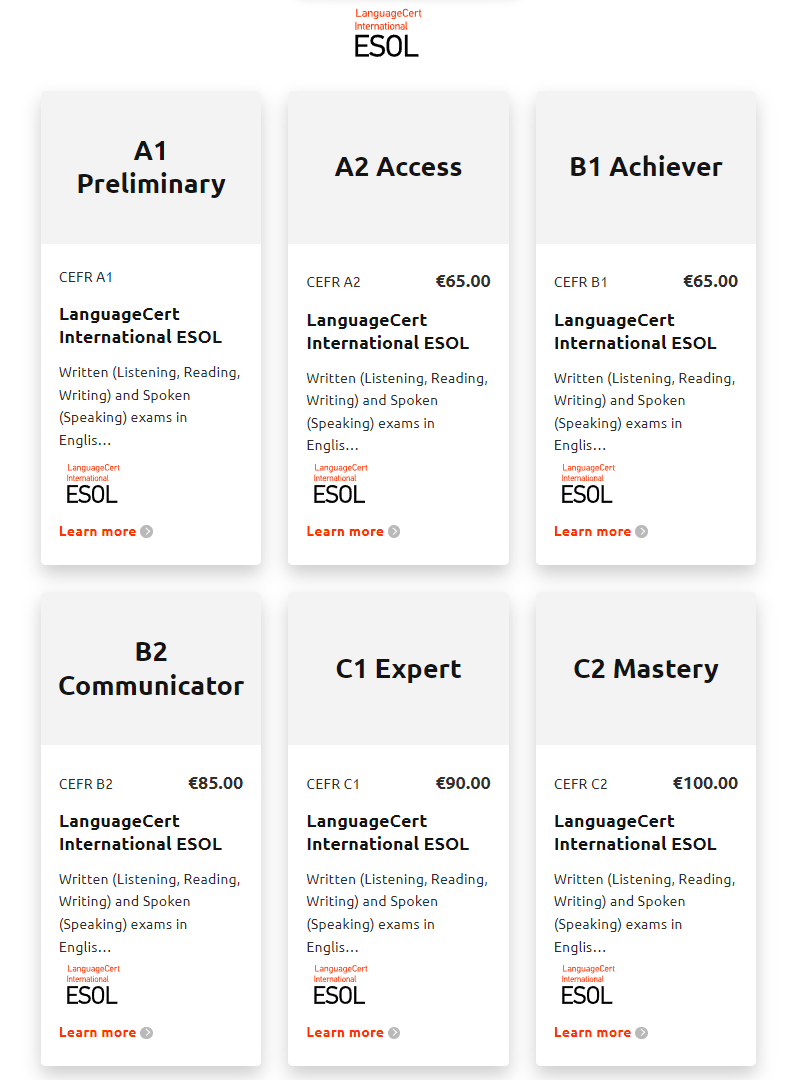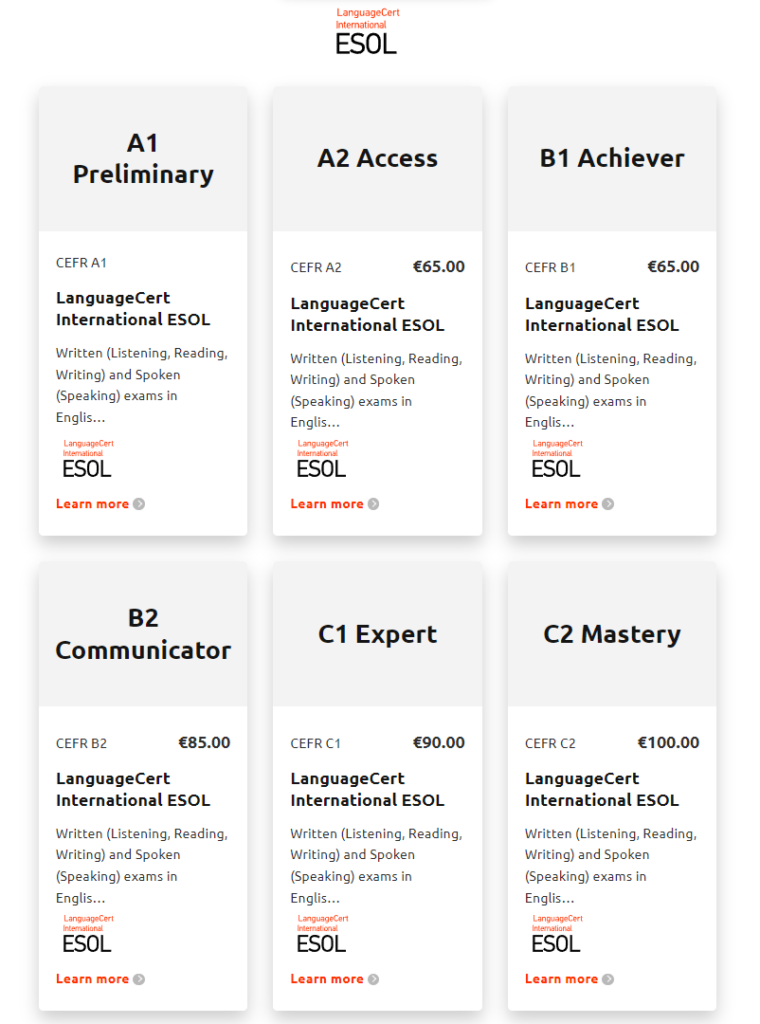 Next, choose the modules you want to take (Written = Listening, Reading Writing/Spoken = Speaking) and click Book. Please note that the exam price may differ depending on your location. However, with our promo code CB8358 you get a 15% discount everywhere in the world.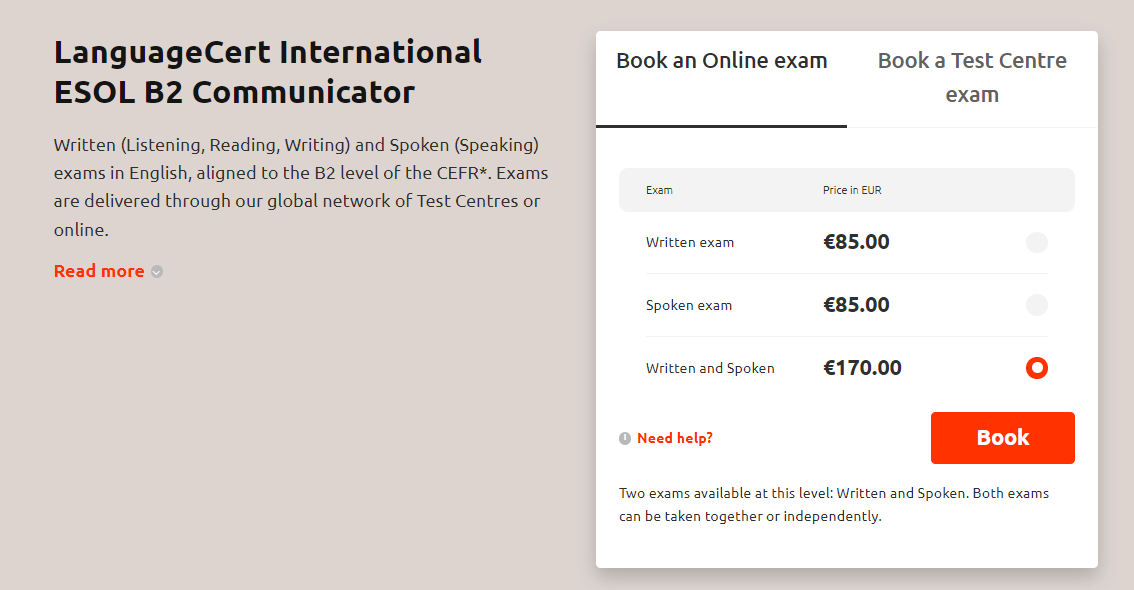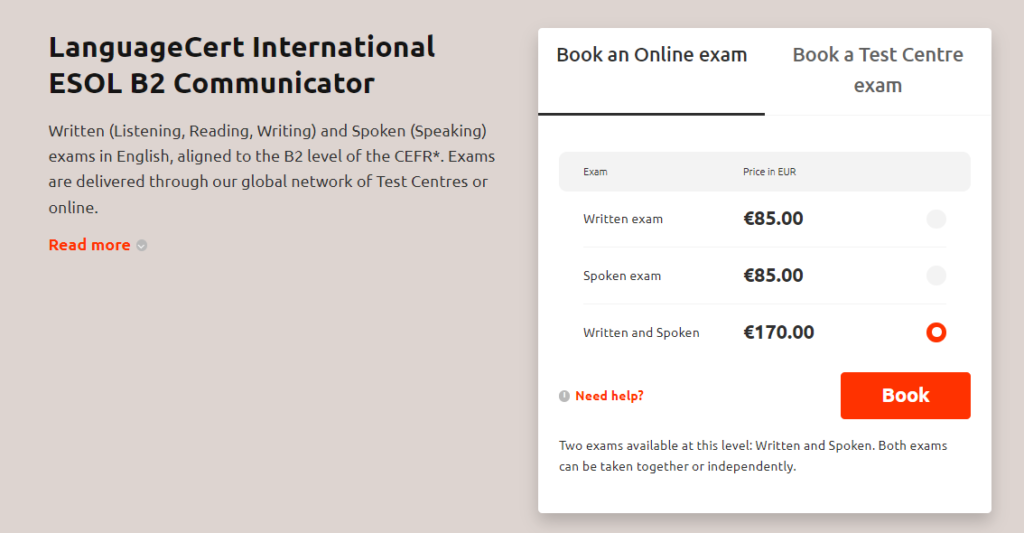 Using our Promo Code
You will see the modules you have chosen in your shopping cart


Scroll down to the summary. You will see a Promo Code text box.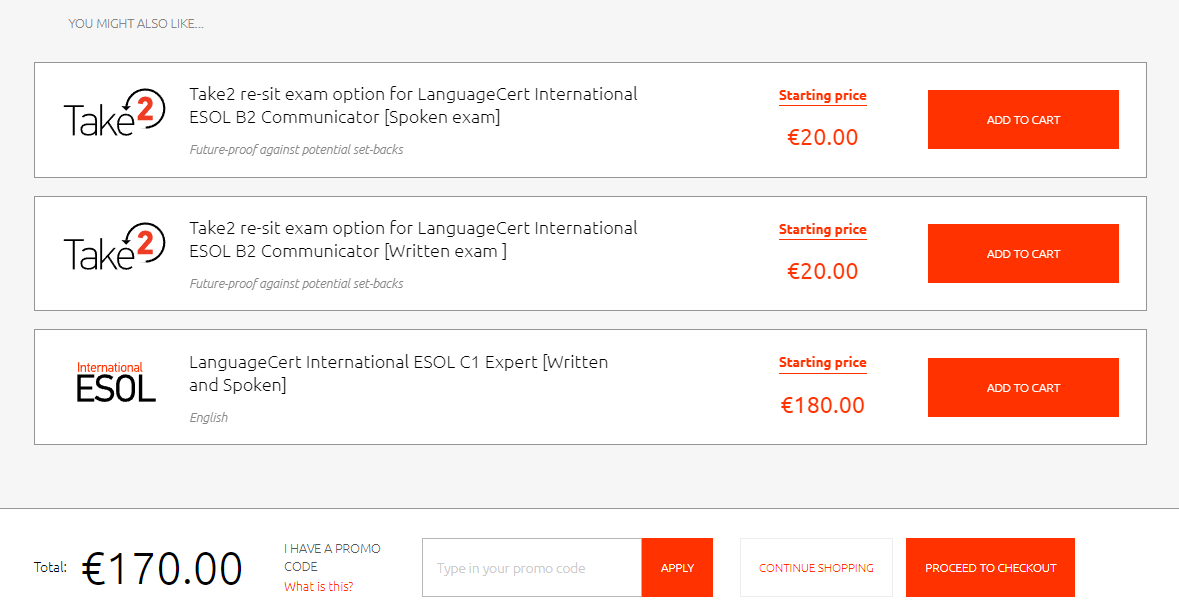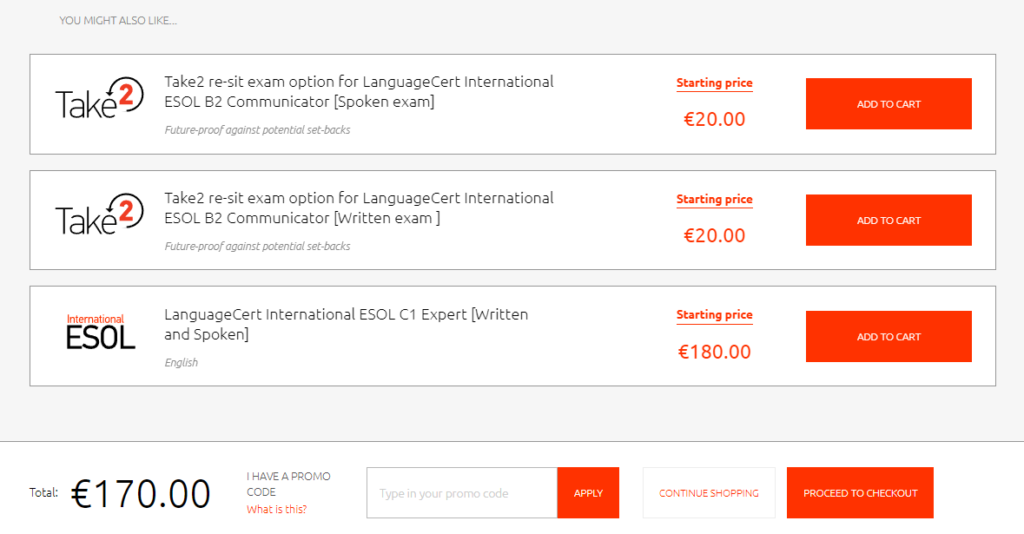 Enter our LanguageCert ESOL Promo Code CB8358 in the text box and click Apply. You will see your exam fee lowered by 10%. It works anywhere in the world!




Choosing your exam date & time
Next, you will have to choose you exam date. Don't worry, it isn't final. You can change it later, for free, up to 48 hours before the exam.
Click Schedule or Edit Date & Time. You can schedule different dates for separate modules.

A new window with the scheduler will open. Here you can choose your native language. What is more, you can select the Proctor's language (The person who will examine you). Below you can choose the date and time from available slots. Simply click on the date and time that you want and click Update selected slot to basket.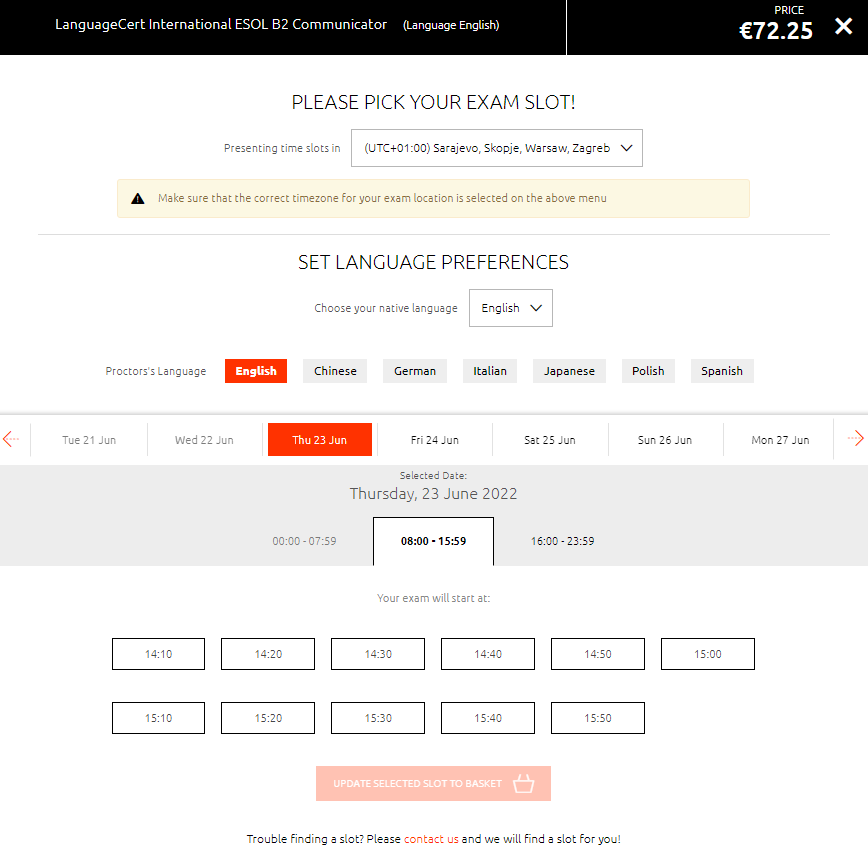 When you choose your date and time it will be shown in your shopping cart.


Paying for your exam
After you select the date and time for your exam click Proceed to checkout.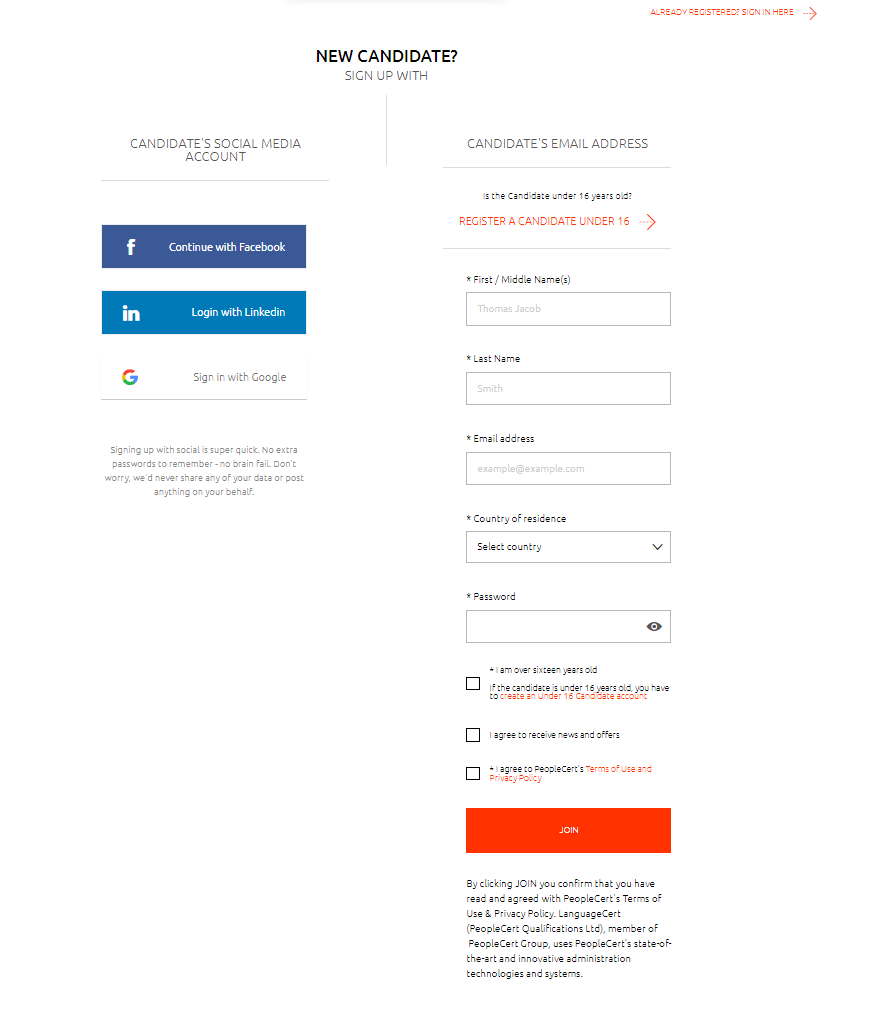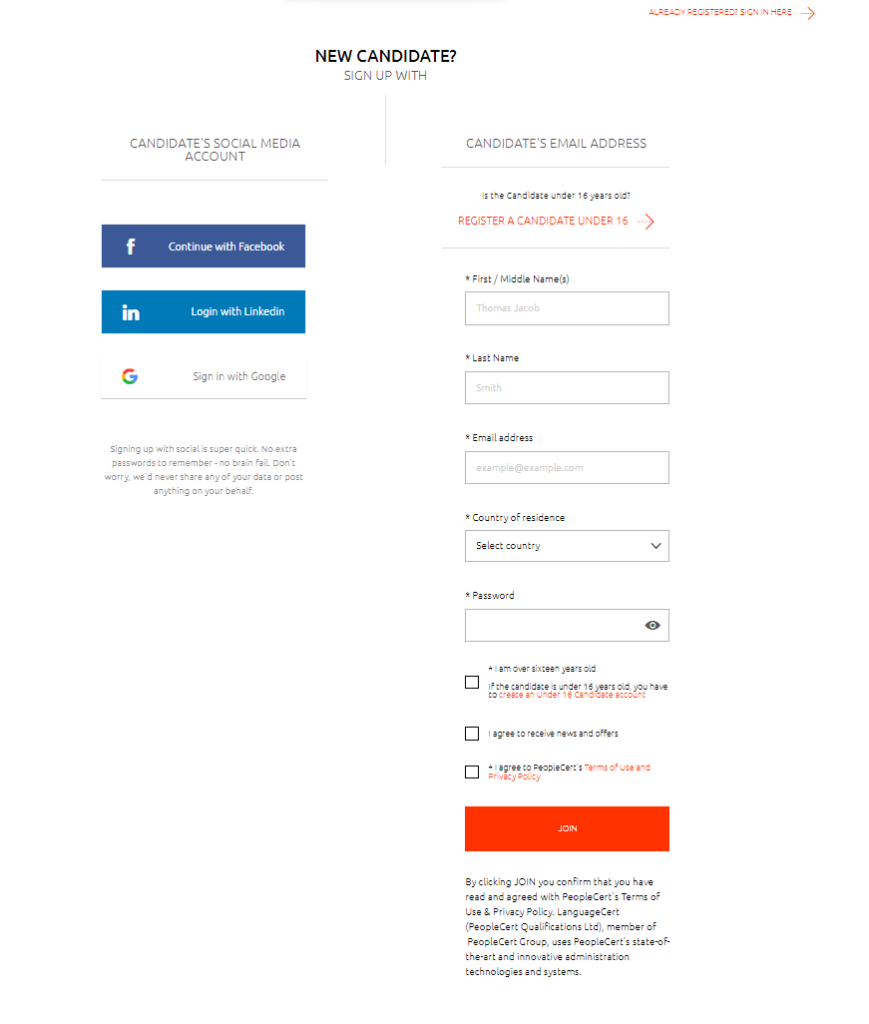 After creating your candidate's account you will go to Checkout, where you can securely pay via Credit / Debit Card or PayPal.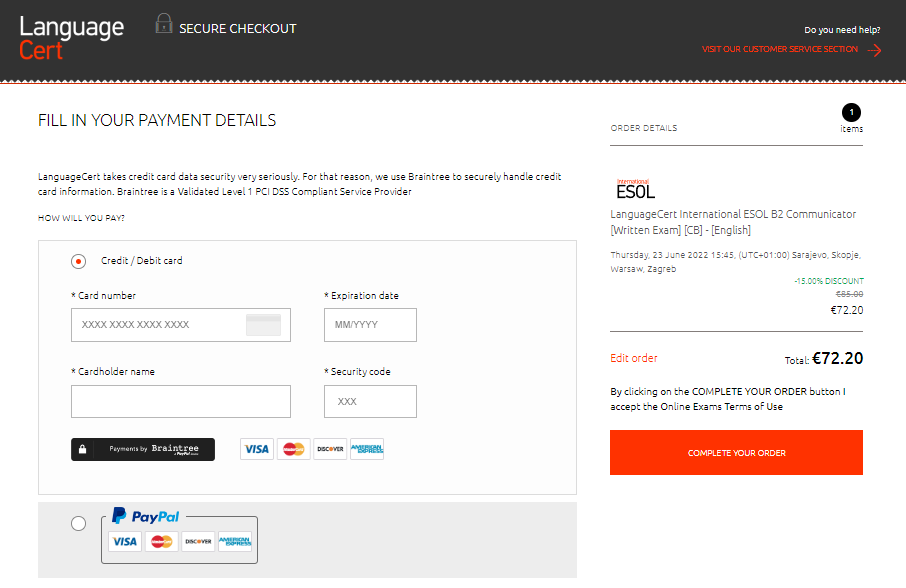 You also have to fill in your billing information.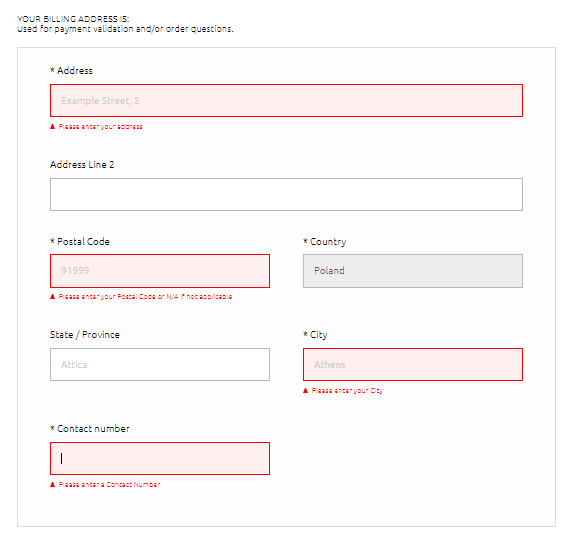 After the payment is complete you have successfully booked your exam!
Filling in your personal details
Next we recommend filling in your candidate's details. This step is important because here you will have to provide your personal data for the exam administration and certificate issuing.
Log into your languagecert.org account here:




Fill in the required personal details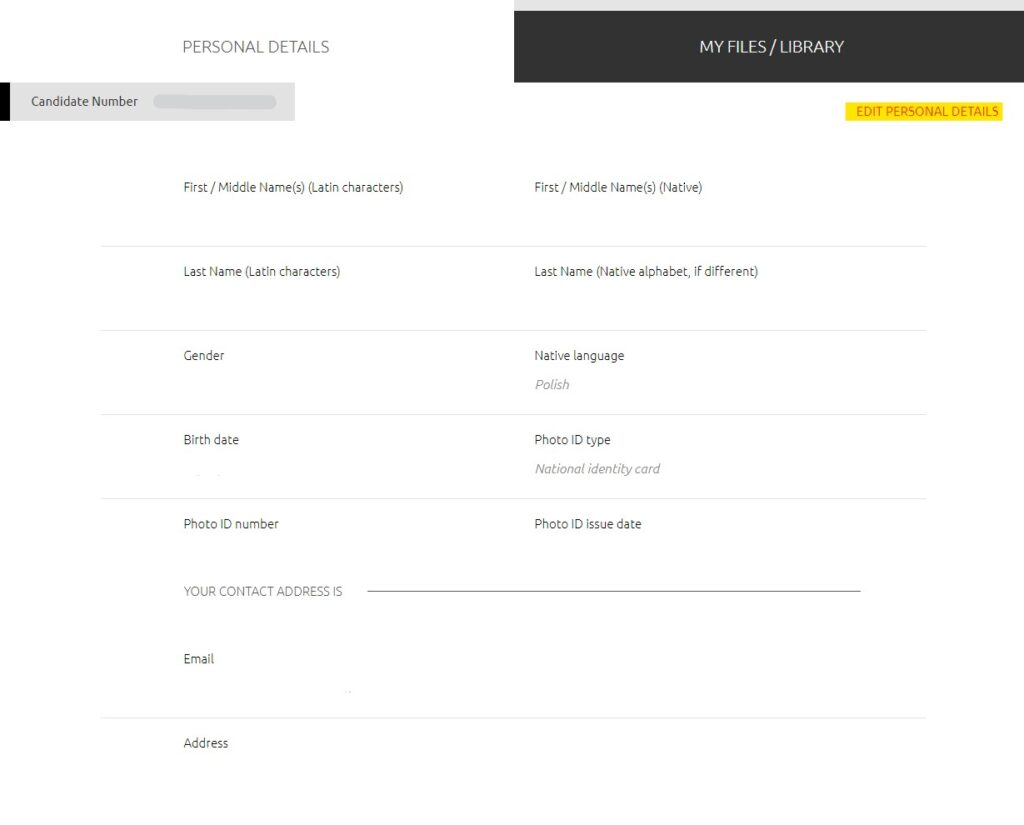 It is very important to give your names both in native and Latin versions.
You also have to provide your Photo ID information for candidate verification.
Downloading ExamShield software
The last step before the exam is downloading the examination software – ExamShield. We recommend doing it as soon as possible to check if everything works correctly before the exam day.
The software is available for Windows and Mac. Below you will find a guide for installing the app on Windows. However, the process for Mac is similar.
Go to the Overview tab in your languagecert.org profile. Here you will find the summary of your Exam. If you have already filled in you personal data in the previous step, you should see a Download button at the bottom. Click it to begin downloading ExamShield. You can also download the app directly from Microsoft Store if you are on Windows.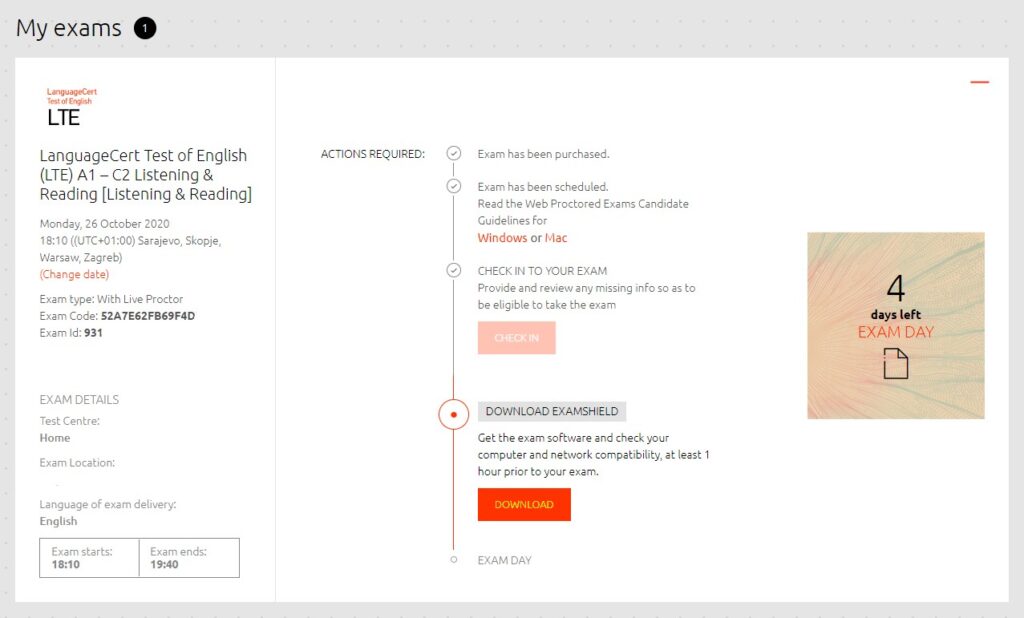 After you click Download you will have to accept the software's license. The program will download soon after.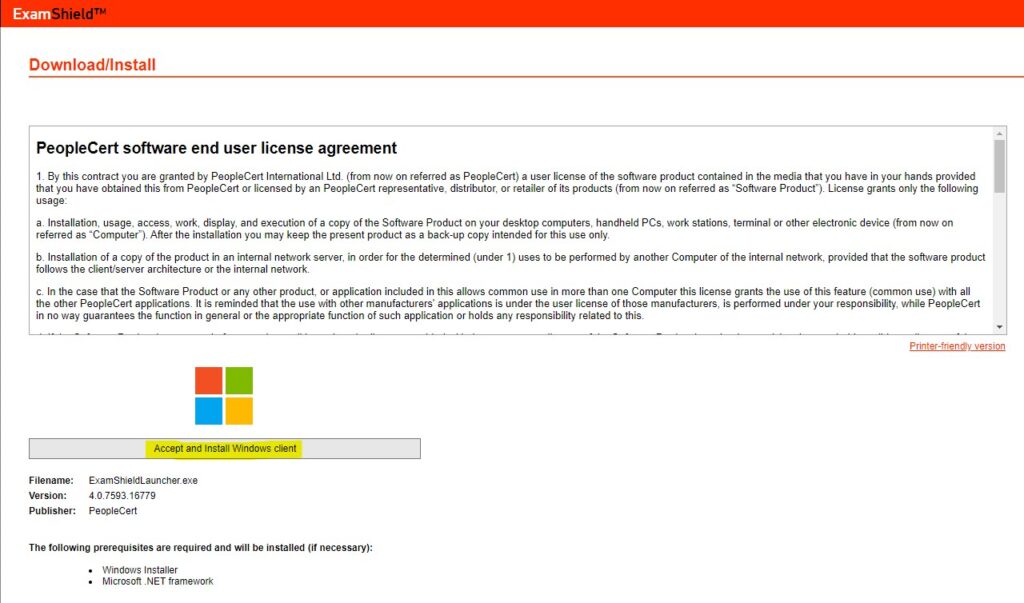 Install the app on your computer. After opening it you will see the following screen.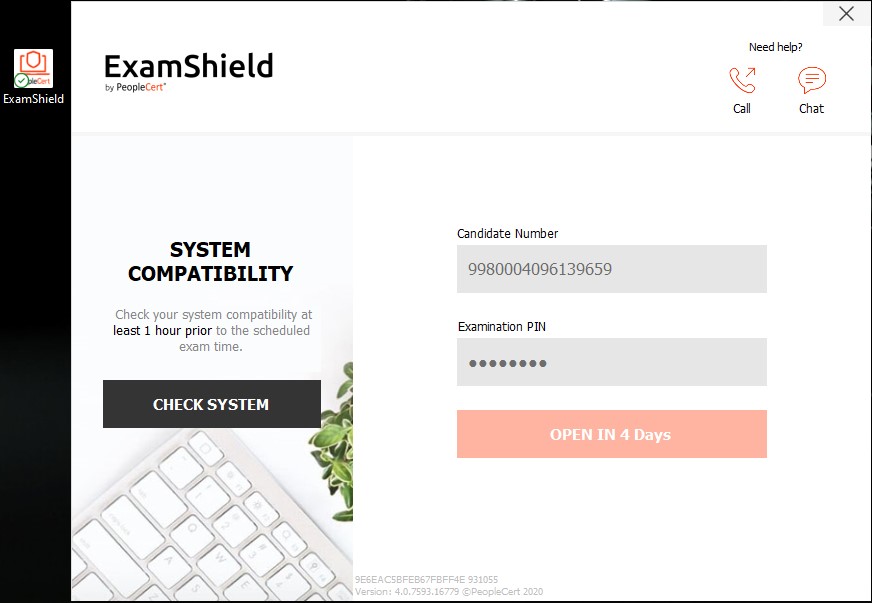 You can log into the app using your languagecert.org profile info. The most important step at this point is to check your system. Connect your wired headphones (wireless headphones are not allowed), webcam and microphone (you can use the internal camera and microphone in your PC) and click Check System.
The app will check your system, audio, webcam and internet connection.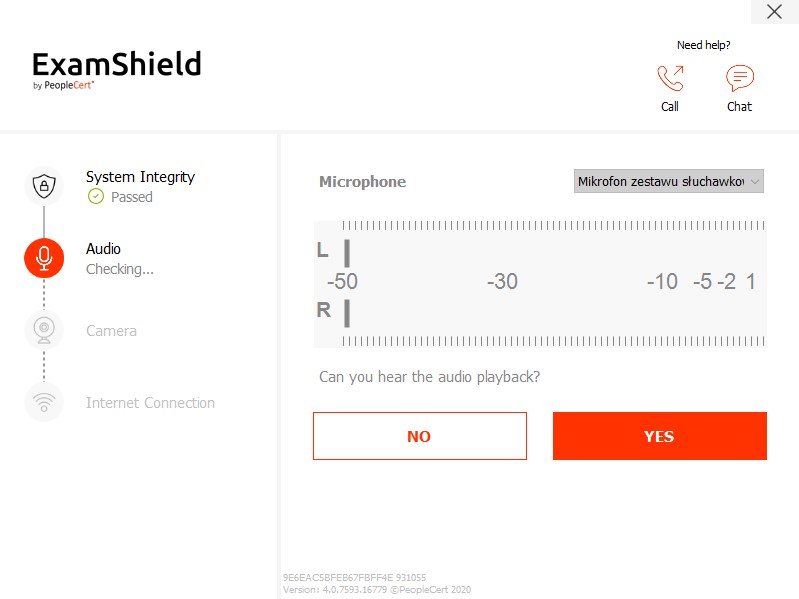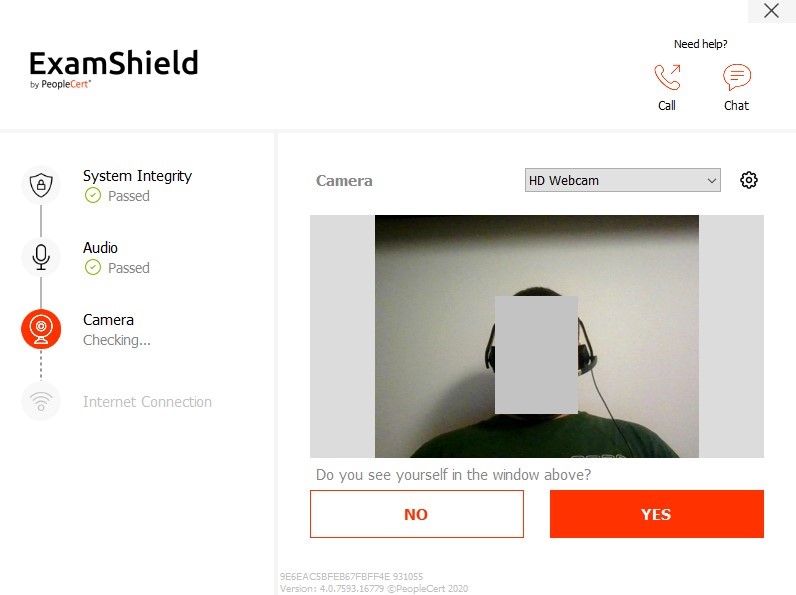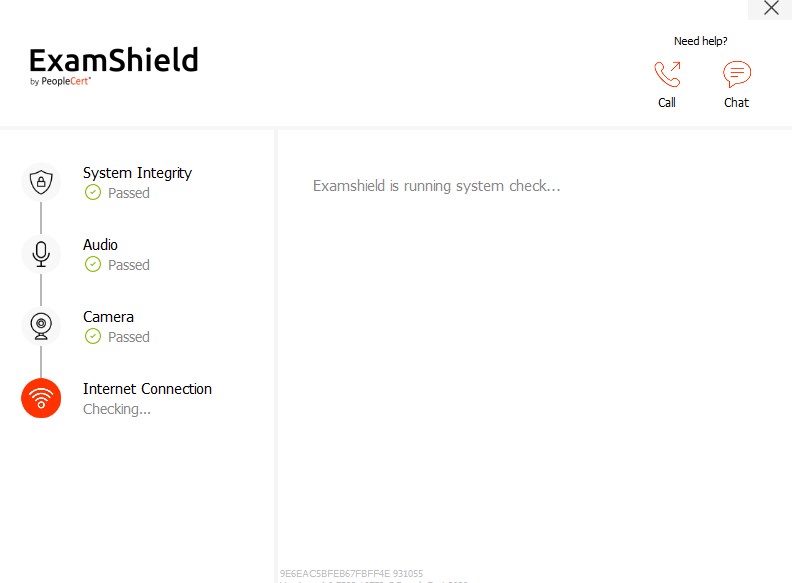 After everything is completed the only thing to do is to wait for your exam day. The app will show you how much time (days, hours, minutes) you have left before the exam. For now you can close the app, however it is recommended to open the app again at least one hour before the exam to check if everything is correct.
On exam day
Ensure that no one other than you is present in the room you will be taking the exam from,
Ensure that there are no documents, books or other materials on your desk/table,
Put your phone on silent mode and place it outside of your reach, in rare cased a LanguageCert representative may want to contact you by phone,
The Invigilator will ask you to show your room before the start of the exam by rotating your camera 360 degrees and showing your surroundings and your desk/table. If you have an internal camera (for example in a laptop), you will be asked to rotate your whole device.
Be sure to watch a short presentation of the online examination process
Contact info
If you need any help with registration, profile or you have questions about the exam, visit this page.
You can get in contact with support by: